Merry Christmas- Love, Mexico
Experiencing Christmas in another country is always exhilarating. What will be similar? What will be different?
This is our first Christmas in Queretaro, Mexico. Lights shaped as Christmas trees and stars hang from the lamp posts. Stores are draped in garlands of poinsettias and sparkling lights, and Christmas music blares out of every doorway and window along Queretaro's historic streets. Plaza gardens have been replaced with vibrant poinsettias, and larger-than-life ornaments outlined in lights provide photo opportunities for families. Maria dolls and garlands hang from the balconies of La Casa de la Corregidora, and a 2-story Christmas tree inside invites passersby into it's grand courtyard.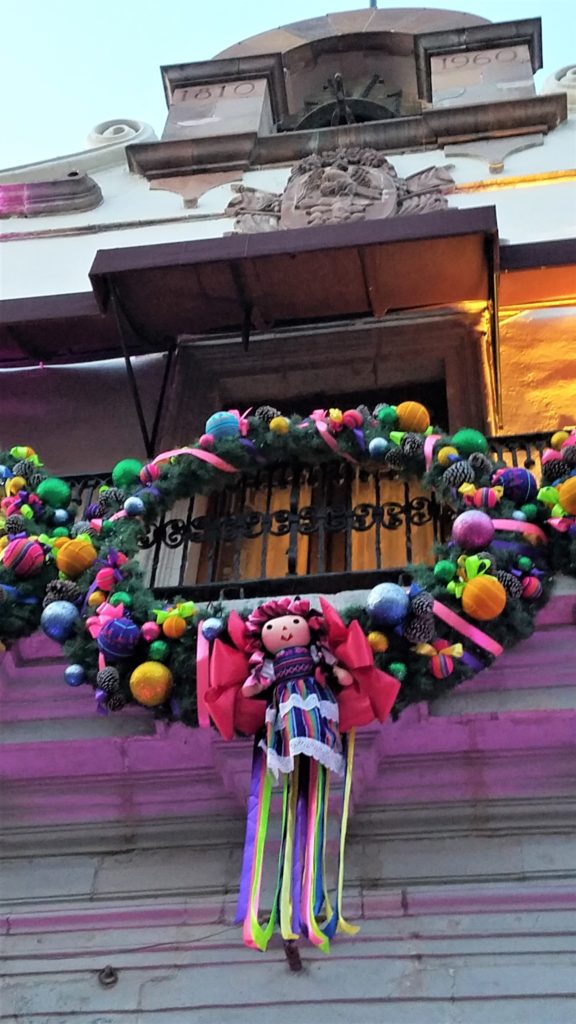 Jardin Zenea (Zenea Garden) and Parque Hidalgo Alameda both have oversized depictions of scenes from the Bible. Mary and Joseph visiting the inns, the 3 wise men with camels and elephants, Noah's Ark with lions and giraffes, and angels hanging from the trees.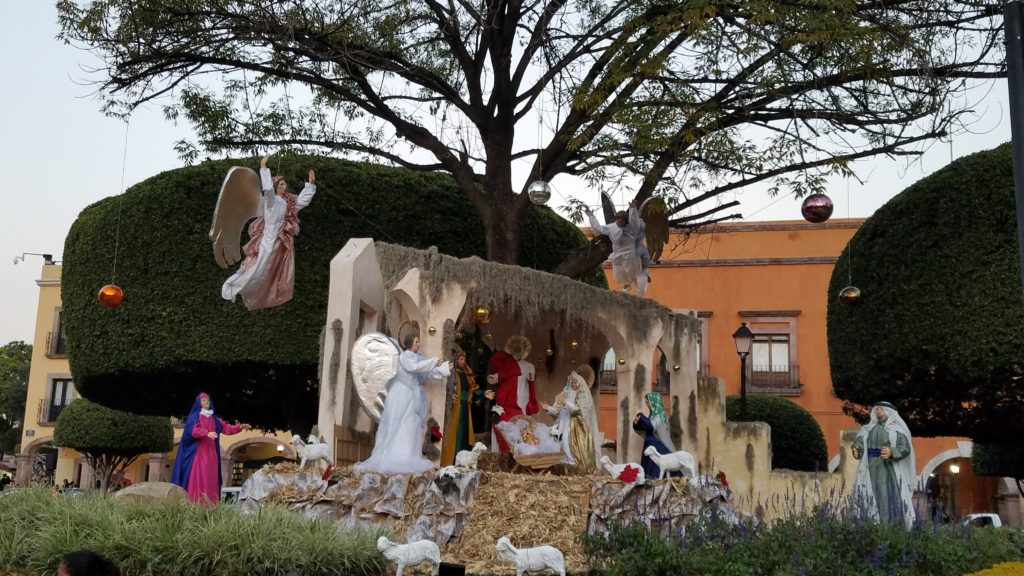 One wonderful surprise for us was the Christmas Market at La Cruz Mercado. Blinking lights and beautiful hand-painted spheres lined the stalls. Christmas trees, poinsettias and colorful cacti waited for a new home. Nativity scenes and figurines, some as small as your thumb, others lifesize, dominated the market. Everything you need for your very own nativity scene including moss, flamingos and a full town could be found here.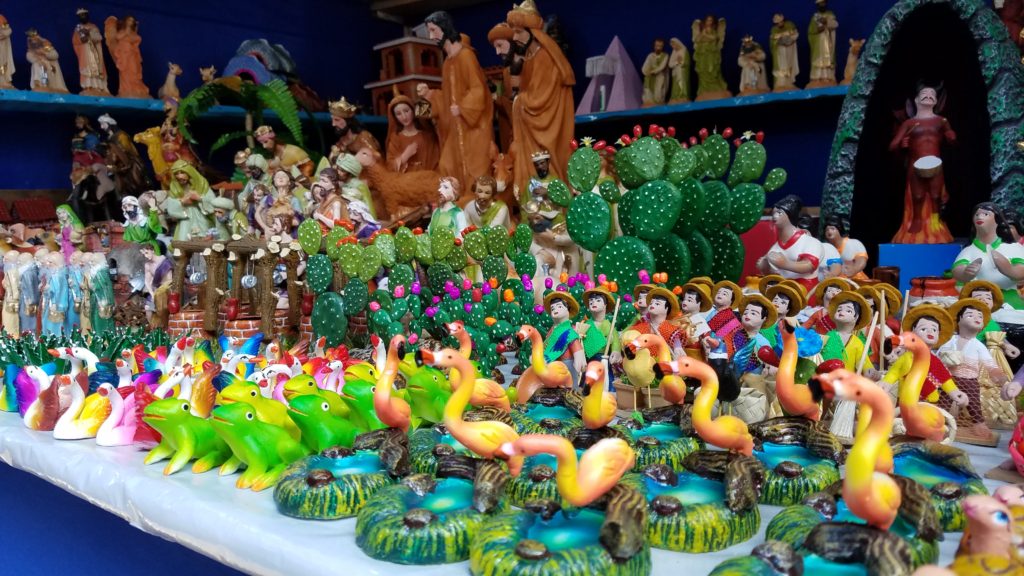 The similarities to a European Christmas are evident, but what makes Christmas in Mexico so special?
Everything is uniquely Mexican.
Christmas Trees
The German tradition of Christmas trees is also celebrated in Mexico. Most people are familiar with Mexican landscapes of of desert cacti or jungle, but just an hour west of Mexico City a family can cut down their own tree in the Forest of Christmas Trees (Bosque de los Árboles de Navidad). Situated below a volcano, this Christmas tree nursery was established over 50 years ago. Nurseries in the State of Mexico, Nuevo Leon and a few additional states provide over 60% of the country's Christmas trees. The most common tree species are Mexican White Pine, Mexican Pinyon, Sacred Fir, Douglas Fir and Aleppo Pine.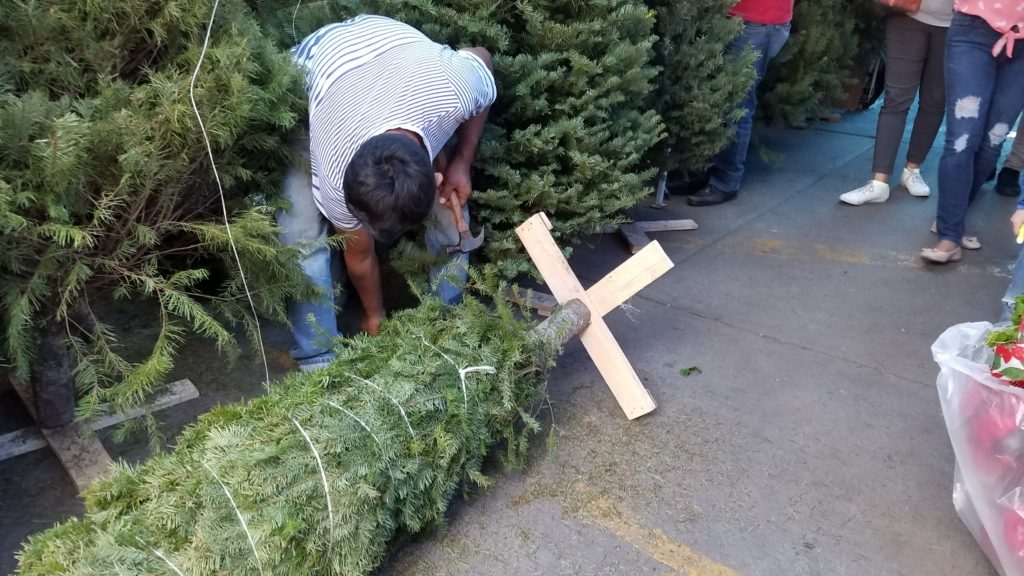 Poinsettias
Poinsettias are the flower of Christmas all over the world, but did you know they are native to Mexico? Known as Flor de Noche Buena, poinsettias were used in celebrations even before the Spaniards arrived. You can find wild populations of poinsettias in the Mexican states of Guerrero, Oaxaca, Michoacán and Chiapas.
But how did the poinsettia get its name? The first US ambassador to Mexico was Joel Robert Poinsett from 1825-1829. He had a strong interest in botany and exported clippings back to the United States. After patenting the plant after his own name, the poinsettia flourished in the United States and around the world. While the red poinsettias are the most popular, they can be white, cream, green, pink and marble in color.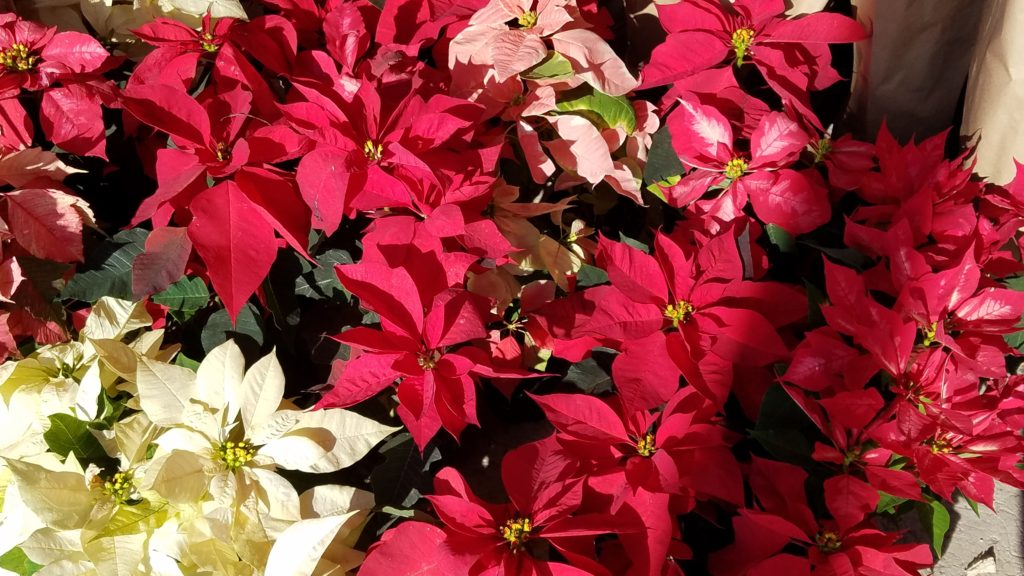 Celebration of Christmas
According to the Aztec Calendar, Winter Solstice and Tonantzin Guadalupe, the Mother of Gods, were celebrated on December 12th. The birth of the sun god Huitzilopochtli was also celebrated during the month of December. Spanish missionaries and religious leaders recognized an excellent opportunity to educate and blend Christian beliefs with the religious culture of the natives.  Today, Mexico honors the Virgin of Guadalupe (Mary) on December 12th and the birth of Jesus Christ on December 25th.
Piñatas
You may not think of a piñata as a Christmas tradition, but in Mexico, it is. The pinata was a way to celebrate Huitzilopochtli's birthday, but the Spanish used it as a tool to teach the indigenous people about Christianity. The original piñata is shaped like a star with 7 points representing the 7 deadly sins (greed, sloth, pride, lust, gluttony, wrath and envy). The stick is the will to overcome sin, and the person is blindfolded as a way to represent faith in what we cannot see. The sweet treats inside the pinata are symbols of all the goodness in heaven. The message: faith and virtue will overcome evil and the goodness of heaven will rain down upon you.  The piñata is a prominent party favor during Christmas and birthdays.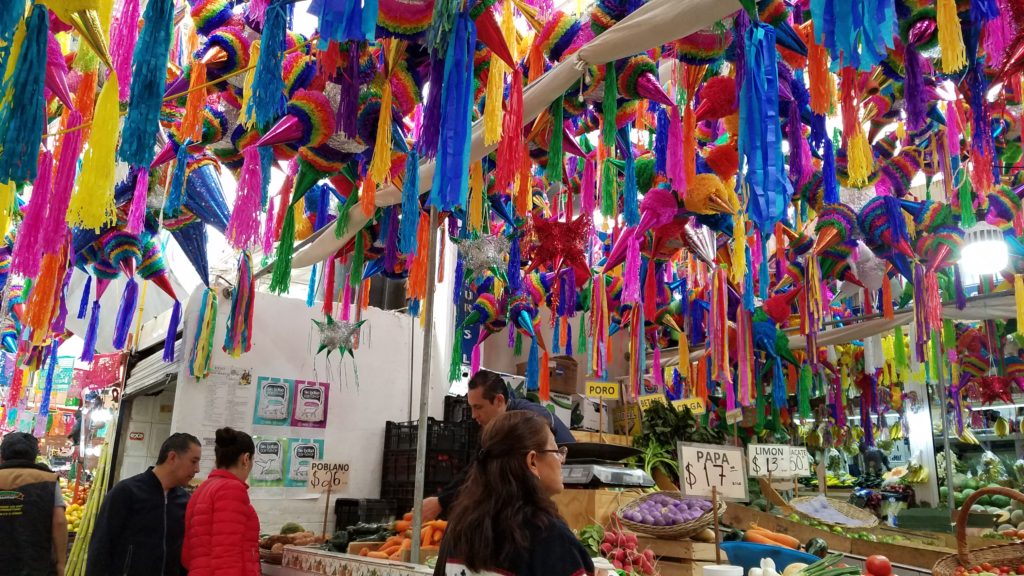 Christmas Ornaments
Many towns in Mexico are known for their hand painted, glass-blown Christmas ornaments.  The most popular shape is a sphere, but bells, candy canes and other shapes are common, too. Chignahuapan in Puebla and Tlalpujahua in Michoacan, both pueblo magicos, are two such places that specialize in these beautiful ornaments.  High season for these towns is October through December, though production of the ornaments is year-round.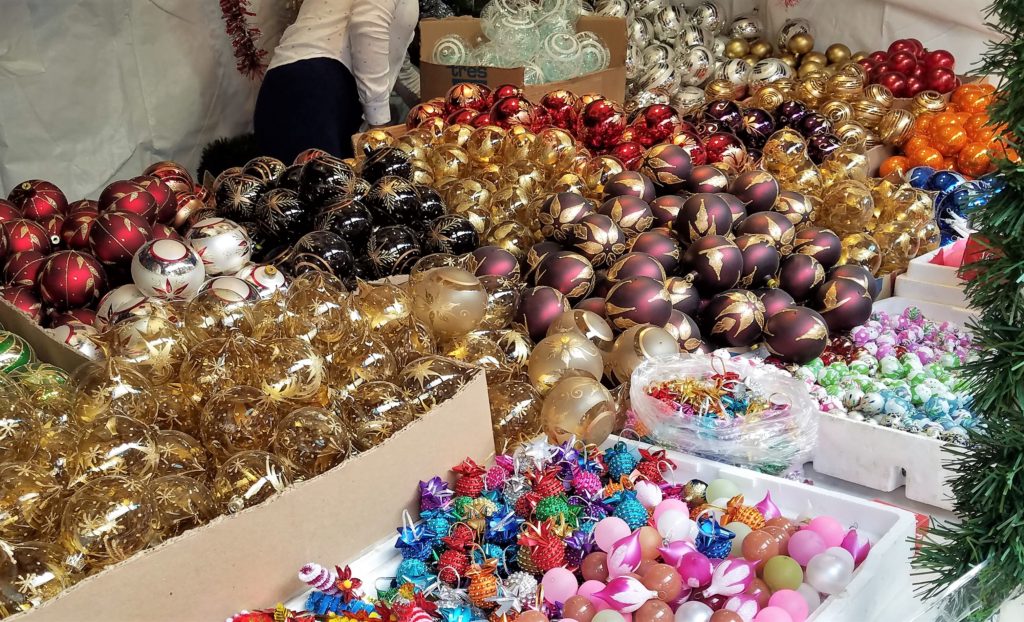 Nativity Scenes
I grew up admiring the nativity scenes of Europe, but the Mexican nativity scenes or nacimientos take this to a whole new level. Some of the foundations may include the manger scene, or arches, houses, and even complete towns with bakeries, tortilla press machines and rivers (that run). Familiar characters of the wise men, Maria and Jose, and farm animals are plentiful, but just to spice it up a bit they add cactus, real flowers, flamingos, frogs, giraffes and elephants. It not only adds color, but they are also great conversation pieces. Nacimientos are extremely important and people take their time to construct the perfect nativity scene for their home.  The towns of Tonala and Tiaquepaque near Guadalajara are well known for their nacimientos figure carvings.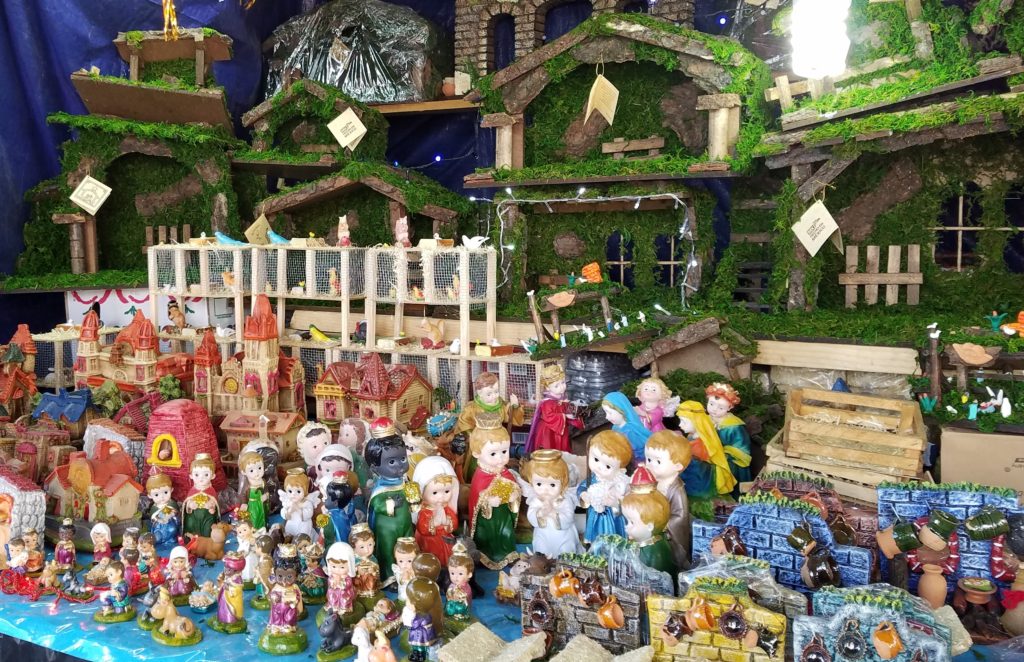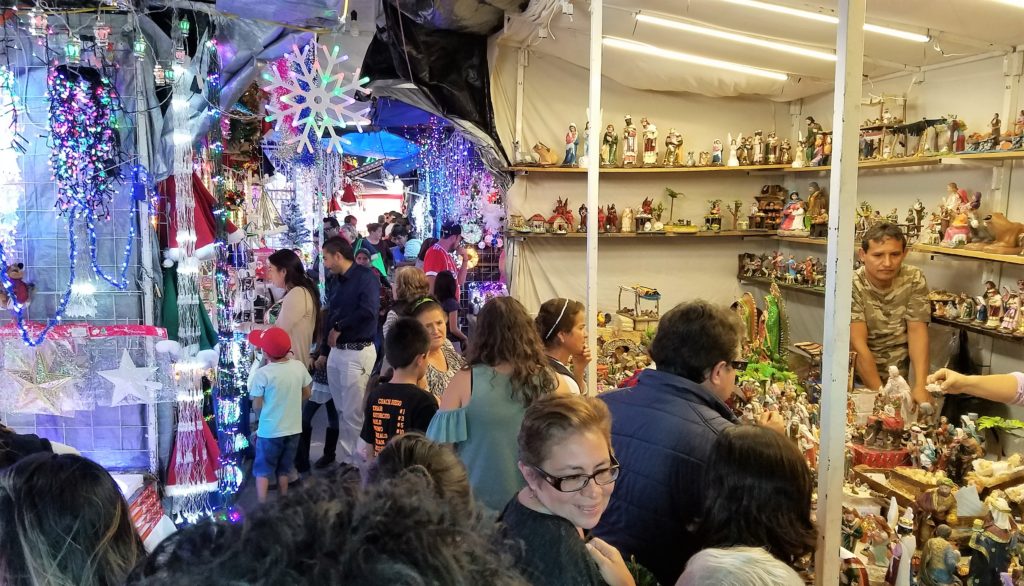 The Christmas celebrations in Mexico unofficially start on December 12th, the Day of the Virgin Guadalupe and last until January 6th Three Kings Day. From the pueblo magicos that specialize in Christmas creations to the forests of wild poinsettias, Mexico is a country of unique year-round Christmas enjoyment.