Creative Ideas to Make the Best Margaritas and Mezcalitas
Margaritas are synonymous with Mexico. This liquid concoction made with tequila and blended with various fruit flavors, brings back memories of fish tacos and dancing barefoot at a beach. Margaritas are the perfect drink for any party situation. Are you ready to upgrade your margarita-making skills? Use our perfect margarita recipe as a base and creative suggestions to make the best margaritas or mezcalitas at your next party.
Disclosure: Some links may be affiliate links where we receive a super-small commission at no additional cost to you if you click through and make a purchase. We call this our Chocolate & Churro Fund.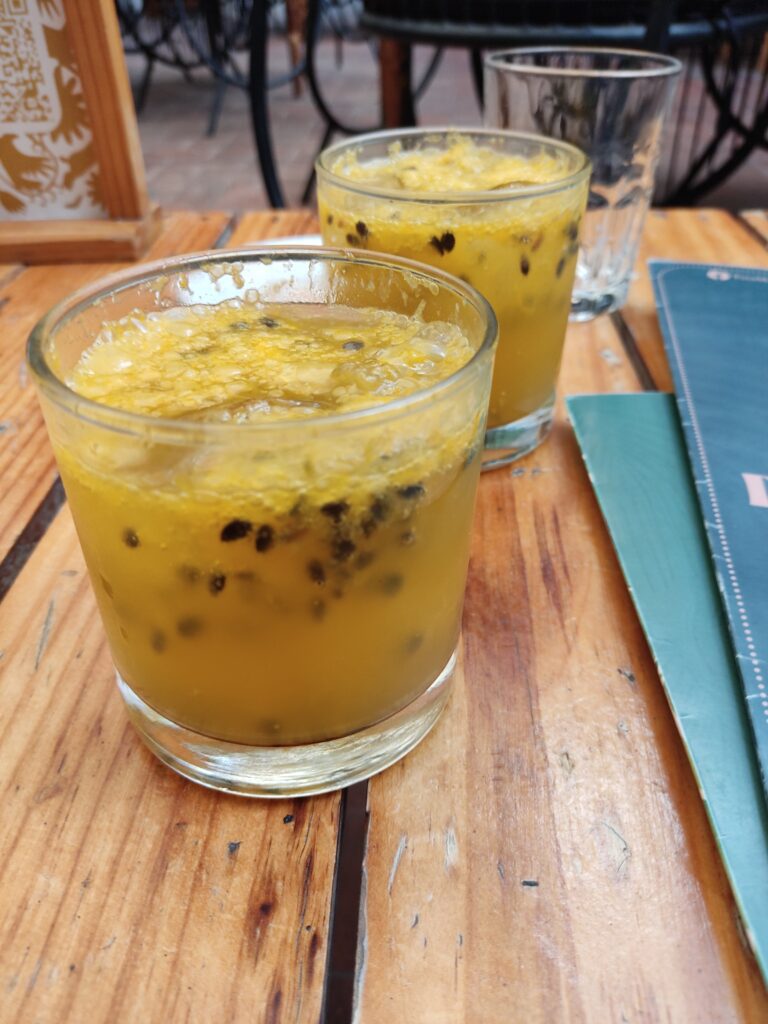 TEQUILA vs. MEZCAL
What is Tequila?
Tequila is a distilled liquor made from Weber blue agave by steaming the heart or piña of the agave in above-ground ovens. The hearts are crushed to separate the fibrous material from the sugary juice and allowed to ferment. Fermentation can take 7-12 days after which the liquid is distilled.
Just like Champagne from France, Tequila can only be called Tequila if it is from the town of Tequila in the state of Jalisco, Mexico.
How is Mezcal Different from Tequila?
Mezcal is also made from agave, but it can be made from 30 different varieties of agave. Its distinctive smoky aroma comes from roasting the heart of the agave in underground pits. Crush, fermentation, and distillation are much the same as it is for tequila. By the way, tequila is a type of mezcal.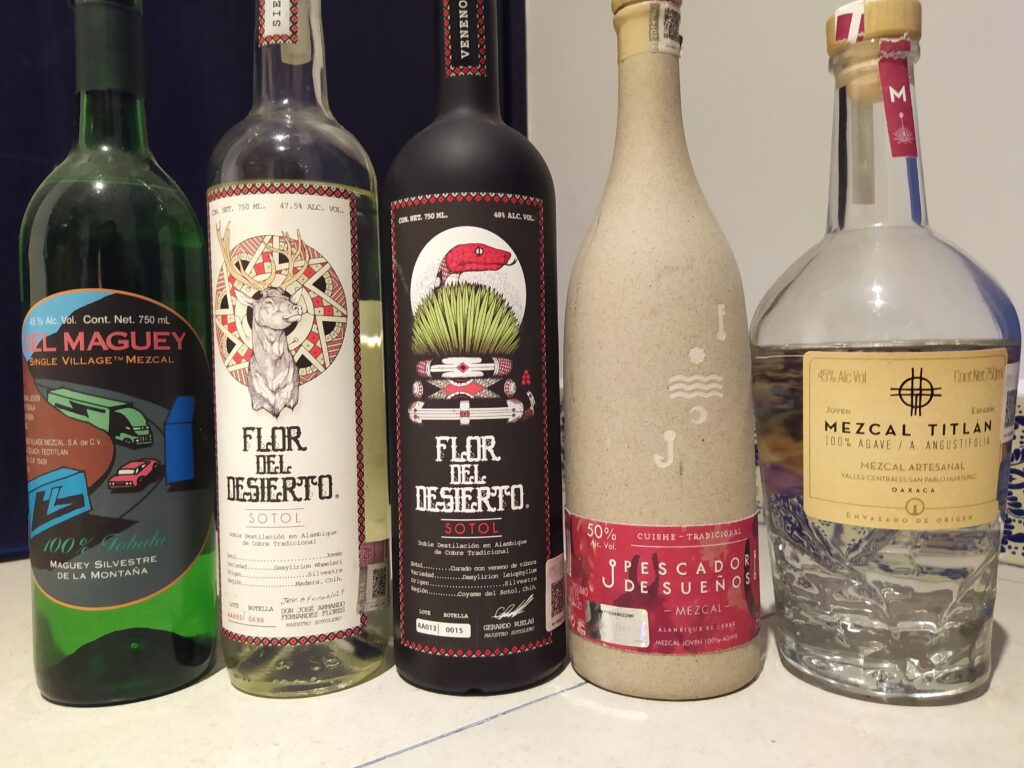 Aging Classifications of Tequila and Mezcal
Both distilled liquors can be bottled immediately or aged in stainless steel or oak barrels.
Silver or Blanco or Joven means the tequila or mezcal was bottled immediately after distillation or aged for less than two months in stainless steel tanks or oak barrels.
Reposado: tequila or mezcal that's aged in oak for a minimum of two months but less than a year.
Añejo: tequila or mezcal that's been aged between one and three years in oak barrels.
Extra Añejo:  tequila or mezcal that has spent a minimum of three years in oak barrels.
Best Way to Drink Tequila or Mezcal
When we hear the word "tequila", college kids slamming shots on spring break come to mind. Traditionally though, both tequila and mezcal are Mexican distilled drinks sipped straight with a slice of lime or orange and salt or served as a cocktail with other liquors, juices, and ingredients.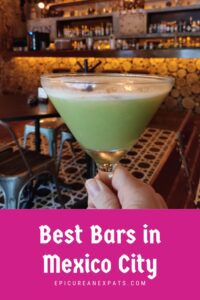 Creative Cocktails
Recently, mixologists have been favoring both tequila and mezcal for a variety of cocktail concoctions. If you have a bottle or two at home, consider experimenting with different fruit juices and herbs. This will give your cocktails more depth and complexity.
Ways to Upgrade Your Margarita or Mezcalita
Here are 5 ways to upgrade your margarita or mezcalita:
1. Choose a unique fruit, herb, or flower as your base.
You can find mango, lime, or strawberry margaritas anywhere. For example, tamarind tastes a little like a frozen Coca-Cola float. Passionfruit has a tartness. Seasonal flavors like pomegranate and gingerbread are other ways to create a unique margarita. And it goes without saying, use the freshest ingredients possible like fresh squeezed lime and orange. (Frozen fruit is always a good alternative, too.)
2. Create more depth of flavor by
 adding herbs, florals, or spicy ingredients.
Candied rose petals and rose water are a nice touch to an original margarita. Lavender and hibiscus waters or syrup are not only wonderful flavors but also give your margarita some color pizazz. Muddle some jalapenos or float on top of your margarita for a garnish to add spiciness. Mint is also a versatile herb. Hot sauce can give your drink a spicy kick. Chocolate shavings are always a nice touch to any cocktail.
3. The tequila or mezcal you use matters.
Granted, when you are serving a lot of people, it's easier to go with the cheapest. But if you are making margaritas for just a few people, go for a better brand. Blanco or joven are typically used, but try a reposado for a little more structure especially if you are adding baking spice flavors to your cocktail.
4. The salt rim.
Some people like a salt rim. Others don't (I'm in this department). Depending on what flavor of margarita you make, try Tajin (chili salt with lime zest), or make your own salt or sugar garnish with dried herbs or chilis. A lavender sugar rim would be nice with a floral margarita. A chili rim would intensify any fruit-flavored margarita. Also, the salt or sugar rim doesn't have to go around the entire glass. Try just doing half the rim for an artistic look and to give people an option of "salt or no salt".
5. The garnish.
The garnish isn't just there to make it look pretty. It's another addition of flavor and aromas. Some ideas for a garnish are jalapeno slices, cinnamon sticks, orange, lemon, or lime peel curls, flower petals, mint or basil leaves, or chocolate shavings. These are just some of the many ways you can dress up your margarita. Garnishes can float on top, or you can make little fruit skewers on toothpicks.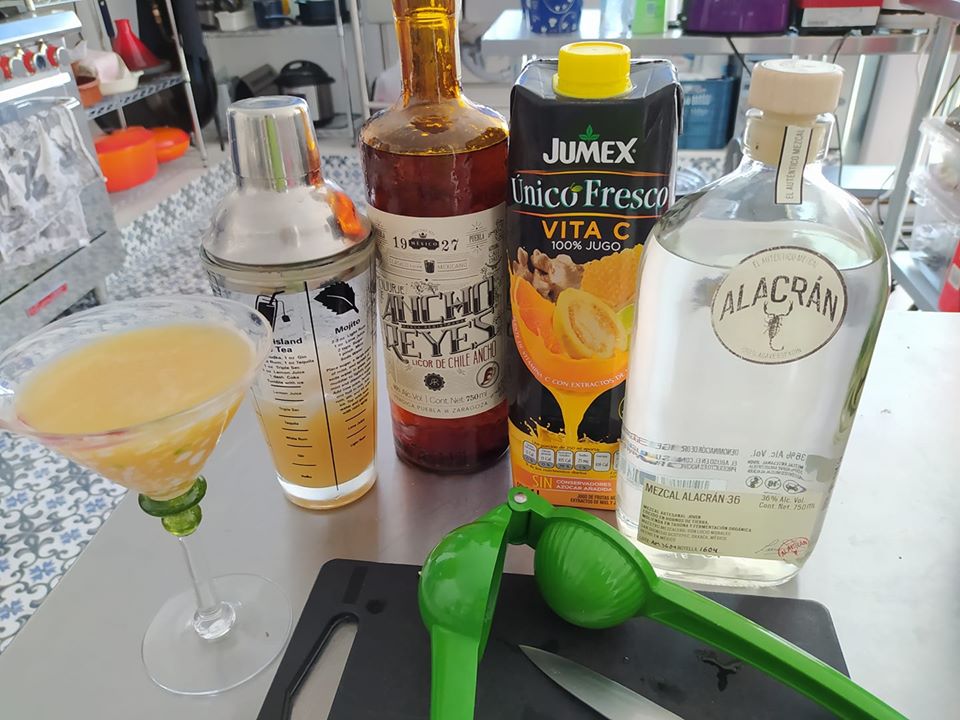 10 Ideas For Your Next Margaritas and Mezcalitas:
Cucumber and Basil

Jalapeno and Watermelon

Peach Mimosa (garnished with mint leaves)
Raspberry, Moscato, and Basil
Blue Curacao and Coconut Cream (garnish with orange peels and blueberries)
Exotic fruit flavors such as Passionfruit or Prickly Pear
Pomegranate with chocolate shavings (great for fall)
Ginger and Orange
Chamoy with Mango or Tamarind
Florals such as Lavender or Hibiscus (Jamaica in Mexico)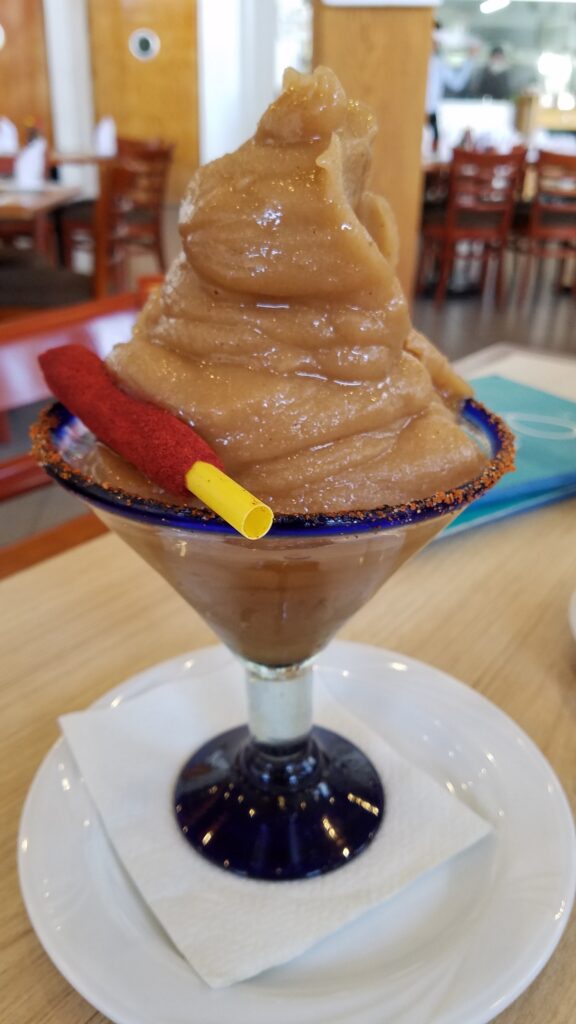 The Best Margarita Recipe
The original margarita is easy to make. Hopefully, I've given you some ideas on how to make some unique margaritas for your next Margarita Night. So let's start with the original margarita recipe:
Yield: 2 drinks
Ingredients:
4 ounces of tequila or mezcal
Juice of 1-2 whole limes (depending on size)
1.5-ounces Cointreau (a better choice for triple sec)
.5 ounces of agave nectar
Chile salt or Tajin for rim (optional)
Lime or orange wedge or wheel, for garnish
MAKE THE COCKTAILS:
Fill a cocktail shaker with ice and add tequila (or mezcal), lime juice, and Cointreau. Shake. Set to the side. Pour chili salt or Tajin onto a plate. Take a lime wedge and run it around the rim of the glass. Dip the rim of the glass into the salt mixture. Pour the margarita, with the ice, into the glass. Garnish with a wedge/wheel of lime, orange, or both.
My Favorite Margarita: Spicy Mango Margarita
My tolerance for spicy things has increased since living in Mexico, so naturally, I love a spicy margarita. This margarita will give you an idea of how easy it is to add and combine different flavors to the original margarita recipe. This recipe makes enough for two drinks. The mezcalita recipe shows you how to make a larger pitcher for a group of people.
Yield: 2 drinks
Ingredients:
4 ounces of tequila (or mezcal)
Juice of 1-2 whole limes (depending on size)
1.5-ounces Cointreau (a better choice for triple sec)
.5 ounces of agave nectar
1 ounce Ancho Reyes Chile Licor (optional)
One jalapeno, charred on the grill and sliced
2 ounces of mango juice
Mango fruit
Chile salt or Tajin for rim (optional)
Lime or orange wedge, for garnish
MAKE THE COCKTAILS:
Muddle half of the jalapeno slices and half of the mango fruit in a cocktail shaker. Add the tequila/mezcal, lime juice, Ancho Reyes Chile licor, mango juice, Cointreau, and ice. Shake. Rim glass with chili salt or Tajin if desired. Pour the cocktail into the glass. Scatter jalapeno slices into glass. Make a mango skewer and serve. This margarita can be served frozen or on the rocks.
For a frozen margarita, add the mixture and ice to a blender and blend on high until you have your desired smoothness.
The Best Mezcalita Recipe
Some people can drink mezcal straight (like Tom), but it's a bit strong for me. I prefer to pair it with something fruity or floral. If you have a hard time drinking mezcal straight, try this mezcalita recipe. It's a fantastic combination of fruity, smoky, and spicy!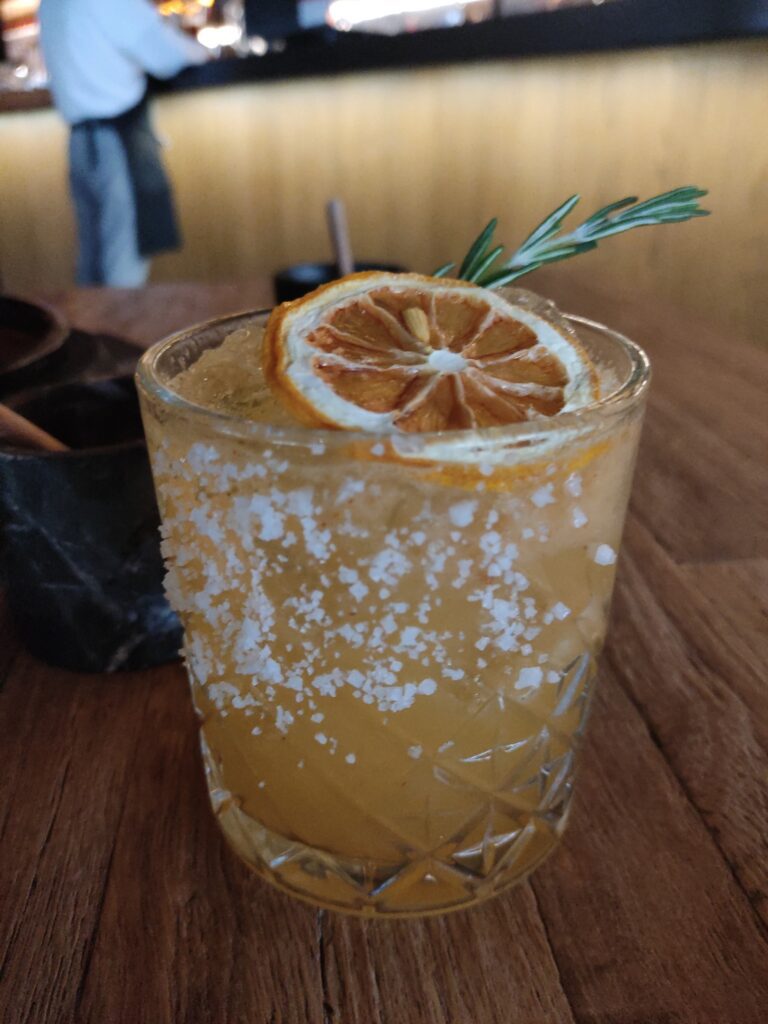 My Favorite Mezcalita: Pineapple Mezcalita
This is an easy one that you can whip up for a large party. (If you need a smaller recipe, use the measurements from the margarita recipe and substitute mezcal for the tequila).
Yield: 6-7 drinks
Ingredients:
3 cups Mezcal
1 1/2 cups lime juice (from 12 to 14 medium limes)
1/2 cup Cointreau or Grand Marnier
3 cups pineapple juice
Pineapple quarters (fresh or grilled)
Jalapenos (grilled and sliced) (optional)
1/3 cup Ancho Reyes Chile Licor (optional)
Ice
MAKE THE COCKTAILS:
Add mezcal, lime juice Cointreau, Ancho Reyes Chile Licor, and pineapple juice to a pitcher and stir. You can serve this right away, or make it a day beforehand and store it in the refrigerator until it's party time.
To Serve: Fill each glass with ice and pour mezcalita over the ice. Garnish with fresh or grilled pineapple. Enjoy!
Do you prefer margaritas or mezcalitas? Tell us your favorite!
Pin This!