Why Did We Choose Querétaro, Mexico?
Mexico is a kaleidoscope of different landscapes. From the beach towns of the Yucatan, wine regions of Baja, the jungles of Oaxaca and mountain ranges twisting their way through dessert and pine forests, it's hard to choose the perfect place to live. Mexico has something for everyone, from wildlife lovers to allergy sufferers. Big city splendor and conveniences can be found in Mexico City, Guadalajara and Monterrey. Central Mexico is full of charming colonial towns with their colorful buildings and festivals in Guanajuato, San Miguel de Allende and Pátzcuaro. Adventure seekers may like the thrill of water sports on the coasts, waterfalls in Sierra Gorda or hiking and rappelling in Copper Canyon. Beach lovers head to the Yucatan on the east side or to the 7,338 kilometers on the Pacific side.
Visiting Mexico is easy though you probably won't be able to tick everything off your list in one visit. Trying to decide where to live in Mexico is more difficult.
With all the amazing towns and landscapes in Mexico, why did we choose to live in Querétaro? Most people have never heard of Querétaro.
Honestly, up until 2 years ago, we hadn't heard of it either.
Our quest to live overseas took us to 3 other continents trying to find the perfect place for us. We wanted history, culture, great food and friendly people. We found these attributes in many locations, but we kept coming back to Mexico. Mexico had all these plus one of the easiest visa qualifications we had researched.
Since this would be my fourth time living overseas and Tom's first, I let him decide on where we should go.
WHAT WE WANTED AND DIDN"T WANT AS EXPATS
Let's look at what we wanted and what we didn't want:
We did not want 10 months of heat like Florida. We wanted a more temperate area.
According to Mexican law, foreigners cannot own a house within 50 kilometers of the coastline or 100 kilometers of the border. You can buy a house near the beach, but the bank technically owns it. Foreigners CAN own their own houses as long as they are in the interior of the country within these border parameters.
We didn't want to be with all Americans. The purpose of moving to another country is to embrace that country's culture and people.
We did want to be close to an airport and modern conveniences.
We did want to experience the culture around us.
We wanted more of an international community with good international food options.
We wanted a safe area.
Tom did a lot of research to find the "perfect" place. Using Numbeo.com, he compared housing costs, crime, and various other factors between many Mexican cities against Orlando. Querétaro's cost of living and low crime came out as a top contender.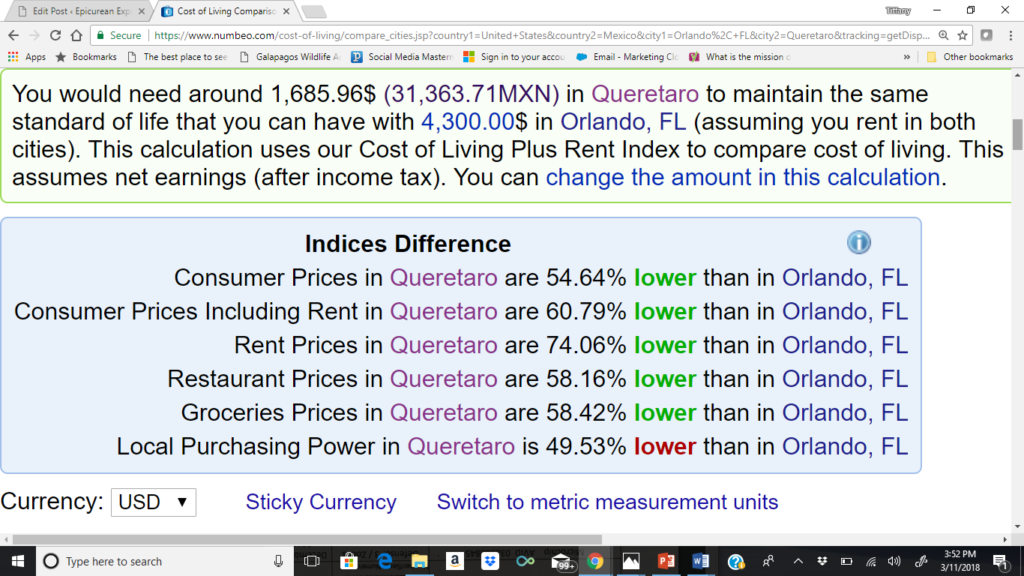 Discovery Trips
Besides the internet research, we also spent a good part of 2017 exploring different areas within the Colonial Highlands of Mexico.
Guanajuato
We instantly fell in love with Guanajuato as soon as we drove in. Situated in a valley between mountain peaks, it's a city with plenty of walking streets. The old silver mine tunnels are used to move traffic around below the city and just outside the mountain range. This is an old university town, but real estate was very scarce. Most of the houses were passed down from family member to family member. A realtor showed us around a bit, but most of the houses available needed serious renovations. We would be playing the waiting game to find anything available, ready to live in and for a price we could afford.
The nearest airport to Guanajuato was Leon, still a good 40 minutes away. Book Now and Save at Hotels.com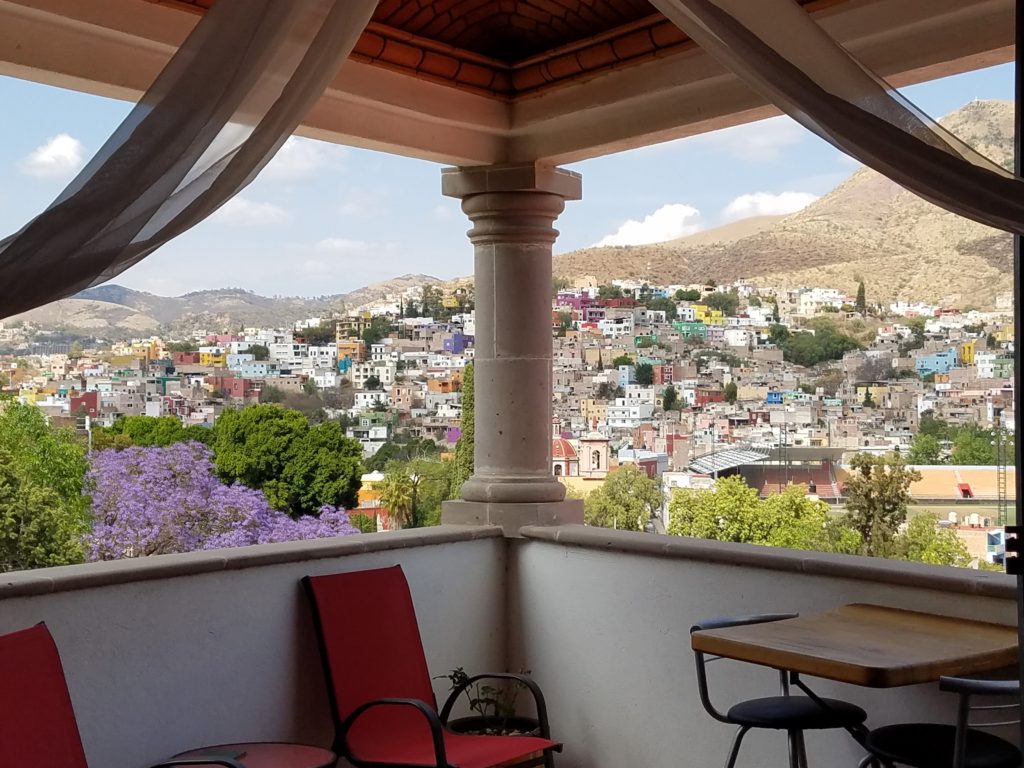 San Miguel de Allende
A favorite community among artists and expats, San Miguel de Allende has been advertising to Americans since the 1950s. It was beautiful, had a fantastic restaurant scene and wonderful artisan markets and galleries. Unfortunately, the American population, mostly from California where real estate prices are astronomical, have raised the housing prices to an amount that was not affordable to us.
San Miguel does not have its own airport so we would have to drive 90 minutes to Leon or just over an hour to Queretaro if we wanted to travel.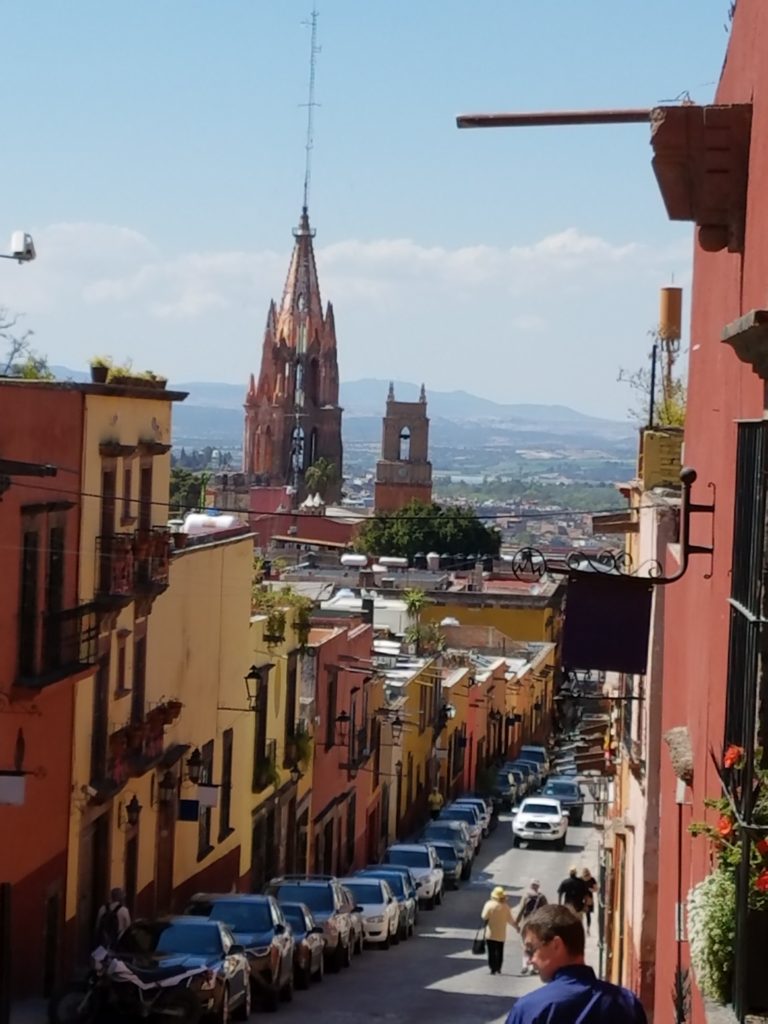 Santiago de Querétaro
Querétaro we found out, is having exponential growth in international business. Many Asian and European companies have built or are building their Latin American headquarters in Querétaro. Samsung, Nestle and Bombardier are just a few of the big international companies here. The per capita income in Querétaro is just behind Monterrey and Mexico City. Queretaro has a large middle class compared to other cities. The city is growing fast, businesses are moving in or expanding, and it has all the modern conveniences you could want including an airport (QRO). There is also a beautiful historic area where the city just comes alive, and many pueblo magicos nearby for day trips or overnight stays.

Stay Longer & Save. Save 35% when you stay 5 nights or more
Centro or Suburb?
We decided we didn't want to live directly in the city and deal with traffic (similar to Orlando's). So we chose to live north of the city in a residential area called Juriquilla. We have plenty of restaurant choices, small mom & pop stores and even a large mall. We are 5 minutes from a real Mexican town, Santa Rosa Jaurengui, and less than 30 minutes from historic Querétaro. Plus, we are 45 minutes away from San Miguel de Allende with its beautiful architecture, and  just over an hour away from Tequisquipan with it's cute little wine bars. Even with all the new growth, housing prices are still very reasonable.
In Querétaro we have great weather where it's cool in the mornings and evenings. We are close to conveniences and historical areas.  We can afford to live here on less money. And we have choices when it comes to restaurants and food because of the international influences.
What factors should you consider when moving overseas? Check out our post on So You Want to be an Expat? How to Choose the Perfect Country for You.
***Did You Find This Information Helpful?***
Website security is costing more and more each each year. Please help us offset the costs of keeping this website running by submitting a donation through PayPal.
Relocation Consultation
Do you have questions on prices, neighborhoods, and expectations about starting your new life in Mexico? Ask us directly! We can set up an hour long video conference call on Whatsapp and help answer questions that pertain to you and your lifestyle. Our consultations are $70 USD for an hour. If we go over the allotted time, no worries. We won't charge you extra. We want you to get the answers you need to make the best decision for a new life. Plus, we will send a follow-up email with other resourceful links specifically for you.