Our Visa Process to Live in Mexico
**This post has been updated with known 2021 requirements from the Mexican government, but still retains our experience getting a visa and renewal.**
Every year for the past three years we have had to go to immigration to get our temporary visas. You can stay in Mexico up to 6 months on a tourist visa, and many people do that. But we wanted to really live here and not have to worry about crossing the border every 6 months. You never know if the Mexican government is going to change the rules.
After four years of temporary residency, you are supposed to automatically get a permanent visa. Hopefully that's true! No more immigration visits, no more gathering a million copies and papers, and we can spend as much or as little time here without worrying about visitation laws.
Things changed at immigration in late 2020.  In some respects, it is easier for renewal. Immigration in Queretaro has finally entered the digital era and have their own card making machines. This means you can get everything in one day if you have everything you need. It still took us three days  because our lawyer's assistant did not fill out a change of address form or was aware of the new fees for 2021. I'll go over some points to double check so that hopefully, it doesn't happen to you.
The following is based on our experience at the Mexican Consulate in Orlando Queretaro immigration. 
**The Mexican Consulates across the United States have similar, but different requirements. What may be required in Chicago could be different then what is required for Dallas or New York.**
#1- Applying for a Visa in Your Home Country
First thing you need to know is that you need to apply for the temporary or permanent visa in your home country. Visit the Mexican Consulate closest to you to find out the requirements you need to apply for the visa. Make an appointment to present all your paperwork (they will give you a list of requirements) and get the visa sticker in your passport.
Visit www.mexonline.com for a list of Mexican consulates in the United States and Canada.
At the Orlando Mexican Consulate office, we could only make an appointment on Wednesdays to apply for our Mexican visa. The following is what the Orlando Mexican Consulate office required from us: (please check with the consulate closest to you for their specific requirements):
A record of all income, stocks, 401K, and any other investments for a year or two (they changed it from a year to two years just before our appointment). We needed to show that we have enough money to support ourselves while we are in Mexico.
Original marriage certificate
Passports
Temporary Visa
For a temporary visa, we needed to show that we make a minimum of $1800 a month for a year (or two) in 2018. The financial requirement for 2020 was at least $32,450 USD in savings for the last 12 months, or an income equivalent of $1945 USD per month.
The minimum daily wage in Mexico increased again this year, so I am waiting to hear how much more it will be for 2021.
We had enough income to apply for the temporary visa, but until our house sold, we did not have enough money for the permanent visa. The temporary visa can be renewed up to 4 years, then we will receive a permanent visa.
Permanent Visa
For 2020, the Mexican government required $129,700 USD in savings or income equivalent of $3245 USD month. (Income can be wages, a pension, or investment profits.)
If you plan to invest in real estate in Mexico as a way to get permanent residency, your house must be valued at  over $260,000 USD to qualify (2020 requirement).
For our appointment, we printed out two years of financial statements plus copies of our passports. The marriage certificate needed to be an original. The packet we presented was over an inch thick. Their computer system was not working well that day, but we did get all the necessary paperwork in. We had our pictures taken, and paid the necessary amount for the visa sticker in our passports. This temporary visa was valid for up to 6 months.
The next time we entered Mexico, we would have to go to immigration to get the "real" temporary visa. We were told by the Mexican Consulate that the visa process in Mexico takes about a month.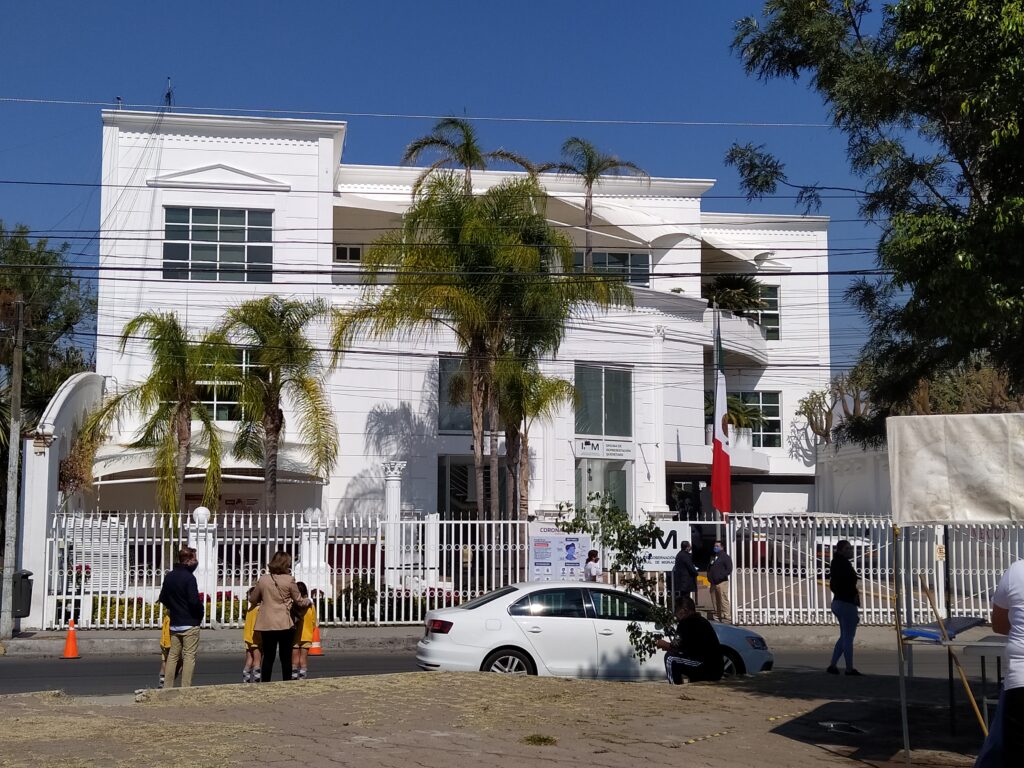 Immigration's New Building
The Immigration building used to be located on the edge of Centro near Blvd Universidad. Last year, they moved to a new location. Even though the outside of the building is visually stunning, it's in a rundown neighborhood decorated with barbed wire and electrical fencing.
The inside isn't much better than before except that the walls are painted white instead of depressing taupe. Cushioned chairs are still at each window where the immigration officers process your paperwork. While you wait for your number to be called, you sit on round  slatted metal benches that are unbelievably uncomfortable, especially if you need to wait over 3 hours for your number to be called.
COVID Rules
During this COVID era, Immigration has very strict social distancing rules. They have reduced the number of people allowed in during the day to 50 or less (we know this because of what numbers we received during all 3 days). They will tell you where to stand in line and where to sit on the benches to observe social distancing practices. Even couples are not allowed to stand or sit next to each other.
You will be given sanitizing hand gel when you enter and face masks must be worn at all times except when your picture is taken.
FYI: If you hire a lawyer, they will not be allowed to come in to help you. What they can do is take your paperwork in at 9am, check it over with an immigration officer, leave, and then when you are called, you can finish signing and fingerprinting. There are one or two immigration officers that know some English.
Cell Phones
In addition, you cannot use your phone in the immigration building. This is to "protect" individuals and maybe even their lack of organization. If you planned to play games, scroll social media or read a saved book on Kindle on your cell phone, it is forbidden. Bring a book as there isn't much to look at.
#2- The Official Visa Process in Mexico
Visa renewals have become easier, and you can get the paperwork processed, fingerprinted, pictures taken and your new card back all in one day. If you are getting your visa for the first time, I hear it still takes about a month to process.
We have used a lawyer every year we renewed mostly because our Spanish is fine for a restaurant, but not for government procedures. You can choose to do the paperwork yourself. We just feel more at ease having someone else do it who is familiar with the process.
Regarding Occupation
Some of the paperwork questions were very basic like how tall we were, how much did each of us weigh and what color our eyes are. Other questions dealt with occupation, if we plan on working in Mexico, etc. With a permanent visa, you can work in Mexico, but not with a temporary visa unless you apply for the work visa stating exactly what you would be doing for work (ex. wedding photography, engineering consulting, etc).
**If you plan on working online or have a business back in your home country, tell them you will NOT be working especially for the temporary visa. If you try to be as truthful as possible, it confuses them and there's more paperwork involved. We told them we are "living off of commissions" from our businesses.**
All The Documents Are Online.
There are basic forms to fill out about your height, hair color and occupation, etc. You must type in the answers into the website and print the forms. Print out 3 copies of each page. Sign with blue ink.
Residency Visa Payment Form
There is a payment form that also needs to be filled in, printed, and taken to the bank to be paid. The bank will keep the form and give you back a half sheet receipt. Make at least 3 copies of this. If this is your first year getting the visa, usually the price of the visa is included in your lawyer's fees. This is because the form requires a bank account number, but you can't open an account until you show proof of residency.
Address Form
For your first year, you will need a letter from your landlord or realtor stating you live at that address. Having the rental agreement and some type of bill with the address on it, is also very helpful.
If you renew and changed addresses, there is a form you need to fill out stating the former and current address. Make 3 copies of this. Also bring some type of electricity, water or cable bill for proof of address. Make copies of these, too. 
* Note: If you changed your address more than 3 months ago and did not inform immigration, you could be subject to a hefty fine. This pertains to both temporary and permanent residency.
Bank Statements
It's really unclear how many months of bank statements you have to bring to show proof that you can support yourself. For the Mexican Consulate in Orlando, they asked us for two years of statements. For our first-year visa, it was one year of statements. Even our second year they asked for one year of statements. Many expats in Facebook groups argued with me on what's required, but that's what they required from us. For this year, 2021, they only asked for 3 months of bank statements. make sure to print out copies for each person getting a visa. 
Be prepared with at least a year's worth of statements.  Immigration reserves the right to make your life difficult, so don't give them an opportunity.
Photos
Immigration now takes digitized photos like the ones you are used to at the DMV. And the pictures come out just as horrible. Ladies (and gents) with long hair, bring a hairband. You will need your hair pulled back to show your ears.
Fingerprinting
Fingerprinting is now digitized as well. This is fantastic because we used to leave immigration with our fingertips covered in ink. 
Additional Notes
I have heard that getting a visa in San Miguel de Allende and Cancun is much easier.  There are more lawyers and officials that speak English. Be aware that you need to apply for your visa in the state you will reside. 
This post is just what we had to go through. If you are missing something like an address change form or financial statements, the Queretaro office will not proceed with the rest of the documents. It's extremely frustrating. We've heard of other offices checking all the paperwork in case you are missing other forms or copies. 
If you need to leave the immigration building to make copies, there are businesses to the left that will make copies  and have immigration counselors to help you. 
2021 Updated Visa Costs
Temporary resident card, up to one year   4413.00 pesos
Temporary resident card for two years      6613.00 pesos
Temporary resident card for three years    8376.00 pesos
Temporary resident card for four years     9927.00 pesos
Permanent resident status authorization    5379.00 pesos
One more thing…Smile a lot. This will test your patience, but it will be worth it!
Migratory requirements and address of the INM can be found on www.inm.gob.mx or www.inami.gob.mx
***Did You Find This Information Helpful?***
Website security is costing more and more each each year. Please help us offset the costs of keeping this website running by submitting a donation through PayPal.
Do you have questions on prices, neighborhoods, and expectations about starting your new life in Mexico? Ask us directly! We can set up an hour long video conference call on Whatsapp and help answer questions that pertain to you and your lifestyle. Our consultations are $60 USD for an hour. If we go over the allotted time, no worries. We won't charge you extra. We want you to get the answers you need to make the best decision for a new life.
Check out these other posts regarding life in Queretaro: