Molecular Mexican at Lula Bistro
Restaurant Lula Bistro in Guadalajara was a nice surprise. It's highly rated and for good reason. It is one of the few places in town utilizing molecular gastronomy to showcase the special flavors of Mexico.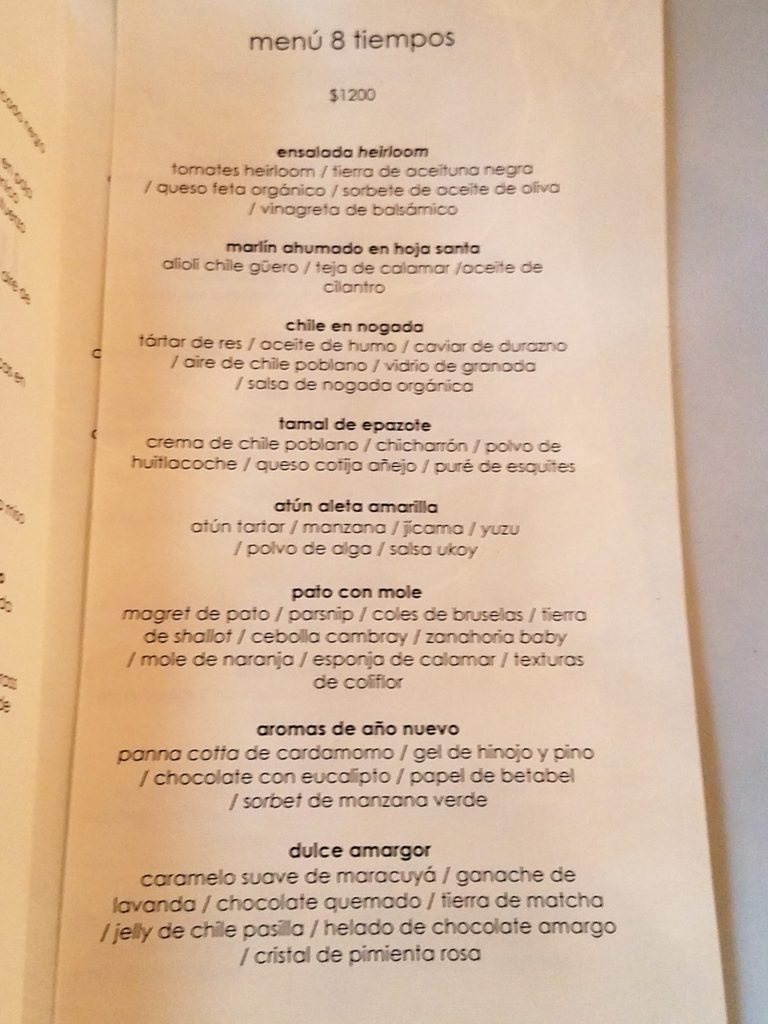 Lula Bistro has three different menus to choose from depending on your tastebuds and how hungry you are.  You have a choice between 6-courses, 8-courses, and 12-courses. We chose the 8-course menu which had the best selections.
1- Heirloom Salad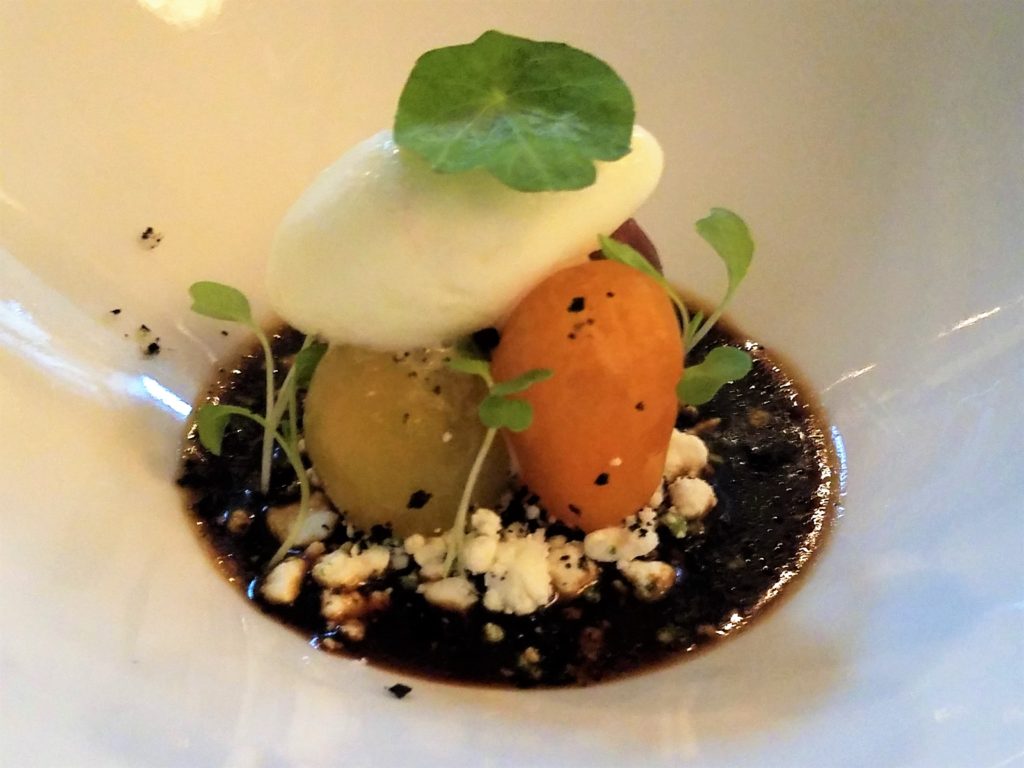 The Heirloom Salad was made with fresh heirloom tomatoes, black olive oil, organic feta cheese, olive oil sorbet and balsalmic vinegar. Very tasty and a good starter.
2- Smoked Marlin with Hoya Santa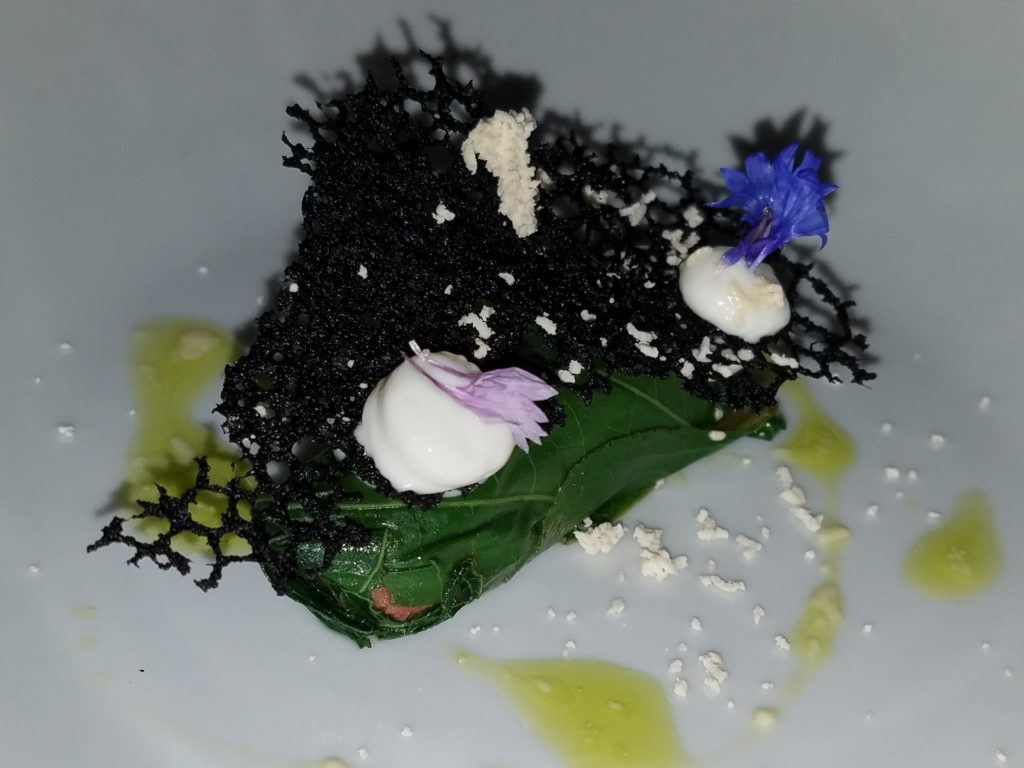 Hoya Santa is a special herb they use in latin countries. It has a green herbal medicinal quaility with a spinach like texture. Smoked marlin wrapped in the herb is intensified with chili alioli, a squid ink wafer shaped like coral, and cilantro oil. All strong flavors on their own, but the sum was greater than the parts.
3- Chile en Nogada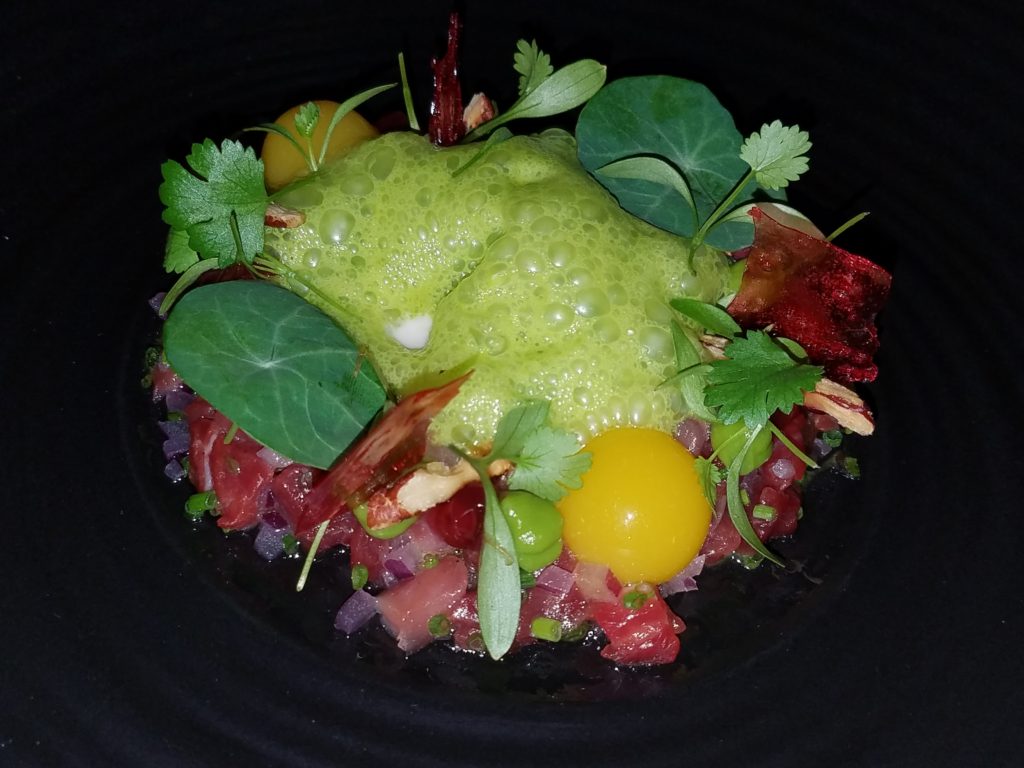 The deconstructed Chile en Nogada was crazy good! Each flavor stood out on its own. Beef tartar was the meat base, smoked oil, chile poblano foam, peach spheres, pomegranate and organic walnut sauce. The walnut sauce was the star of the dish. This was poured into the middle of the foam in front of us.
4- Tamal de Epazote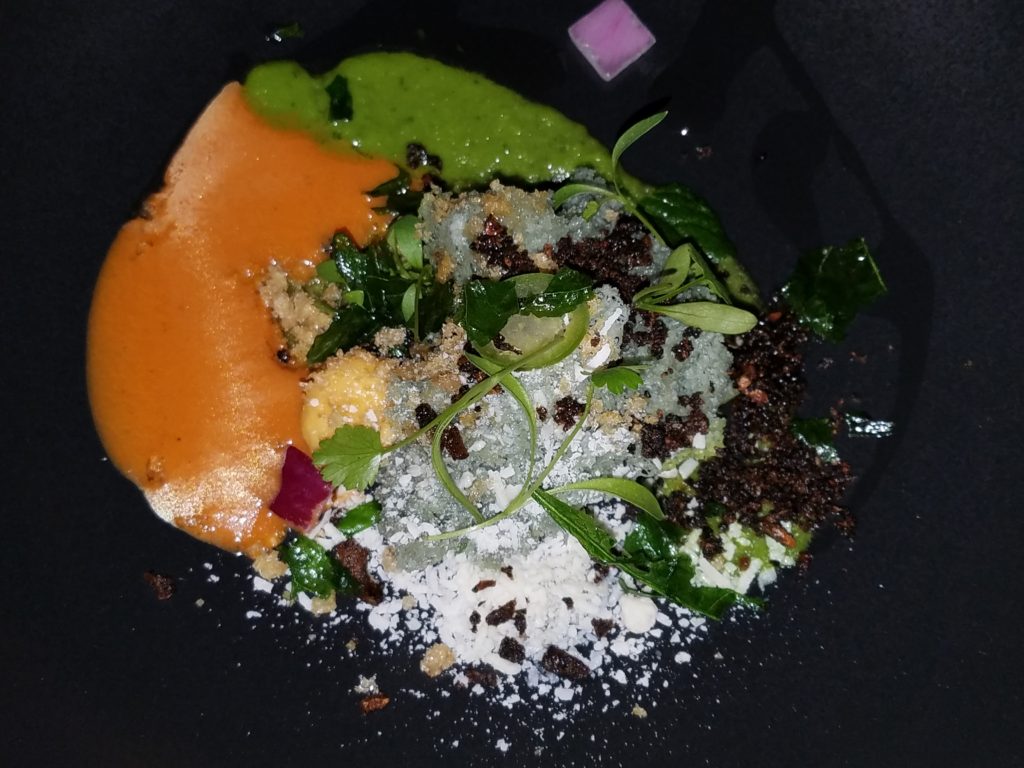 Another deconstructed dish, the Tamal de Epazote. Epazote is a common herb used in many Mexican specialties but often used to season beans. It smells like a cross between mint and lavendar, has a strong flavor like mint. This dish consisted of a cream sauce made from chile poblano, fried pork skins, corn smut powder, aged cheese, and toasted corn puree.
5- Atun Aleta Amarilla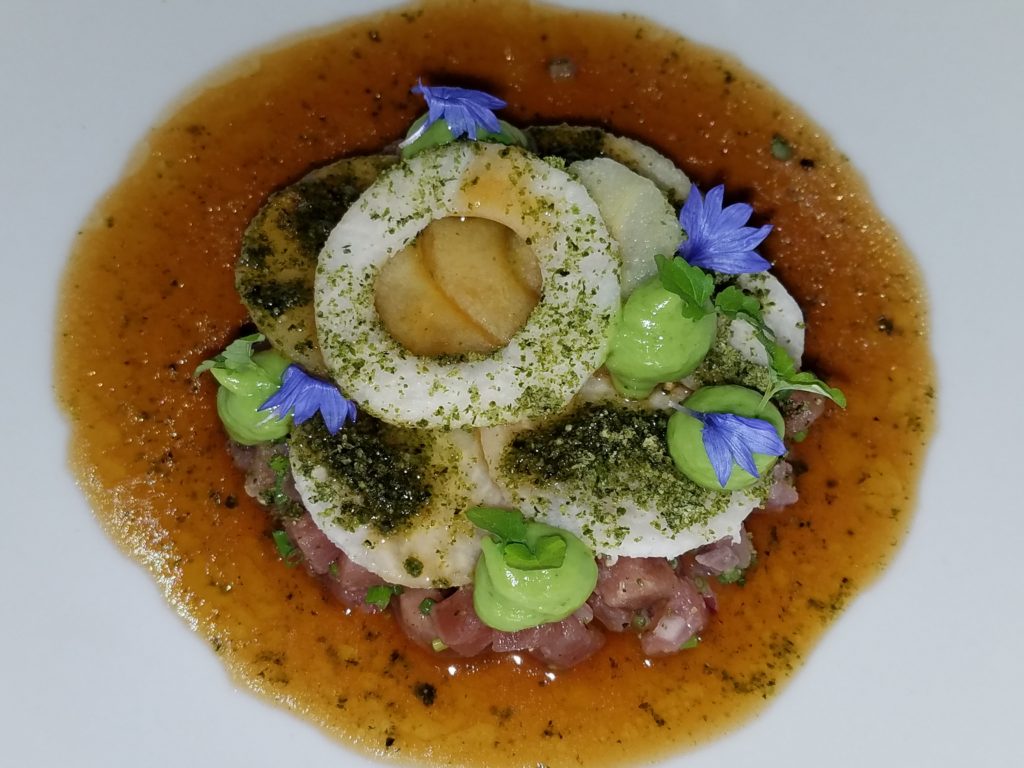 A Japanese twist with mostly Mexican ingredients. Tuna tartar, apple, jicama, yuzu and garlic-vinegar sauce. A unique dish of light flavors in the middle of the meal. Very tasty!
6- Pato con Mole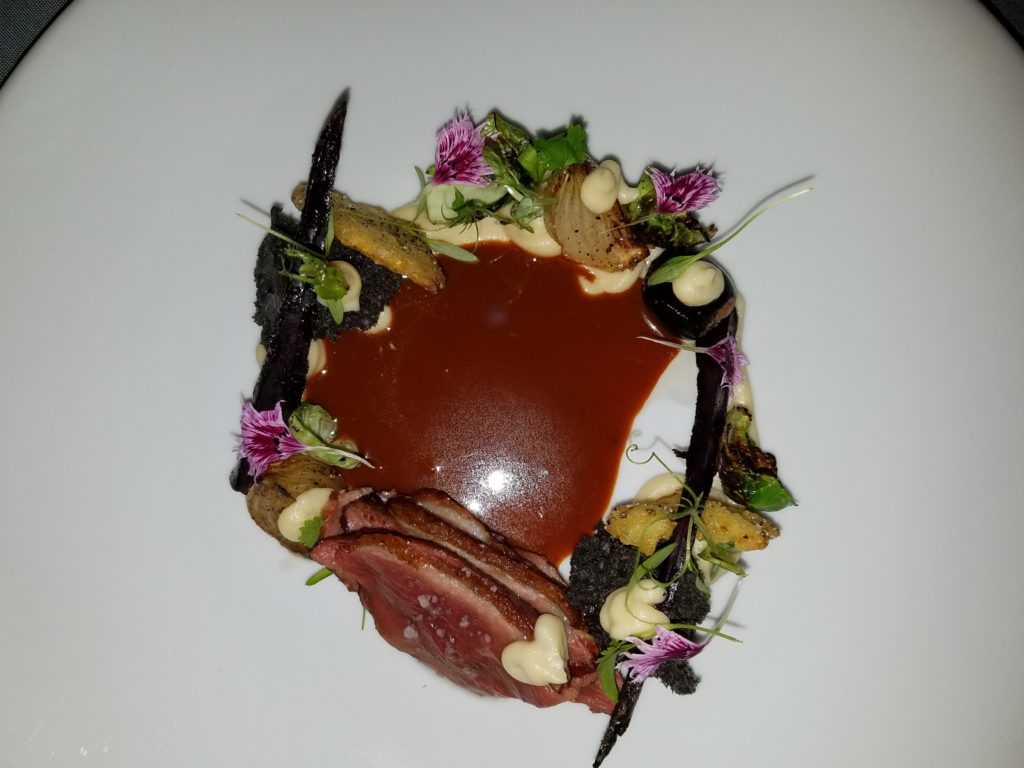 Usually the entrees are heavy, but this was the perfect amount of richness and balanced flavor. Seared duck breast, parsnip, brussel sprouts, spring onions, baby carrots, orange mole, squid ink sponge cake and whipped cauliflower.
7- Aromas de Ano Nuevo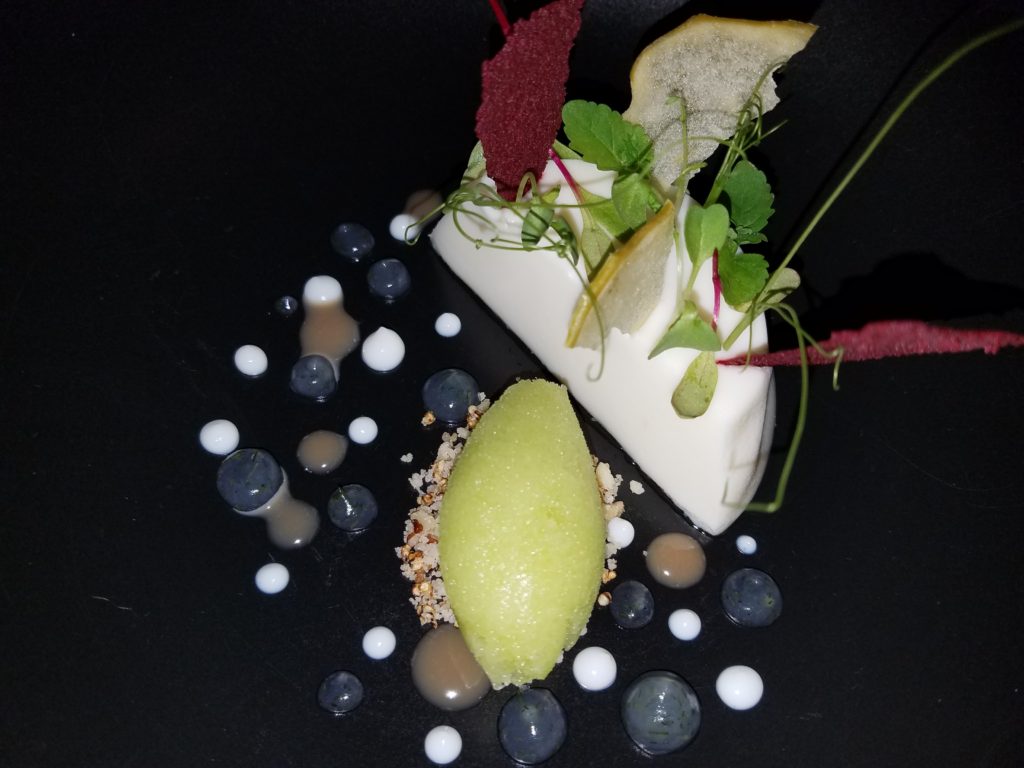 This aptly named course consisted of dominant individual flavors. Cardamon panna cotta, pineapple and fennel gels, eucalyptus chocolate, beetroot wafers and green apple sorbet.
8- Dulce Amargor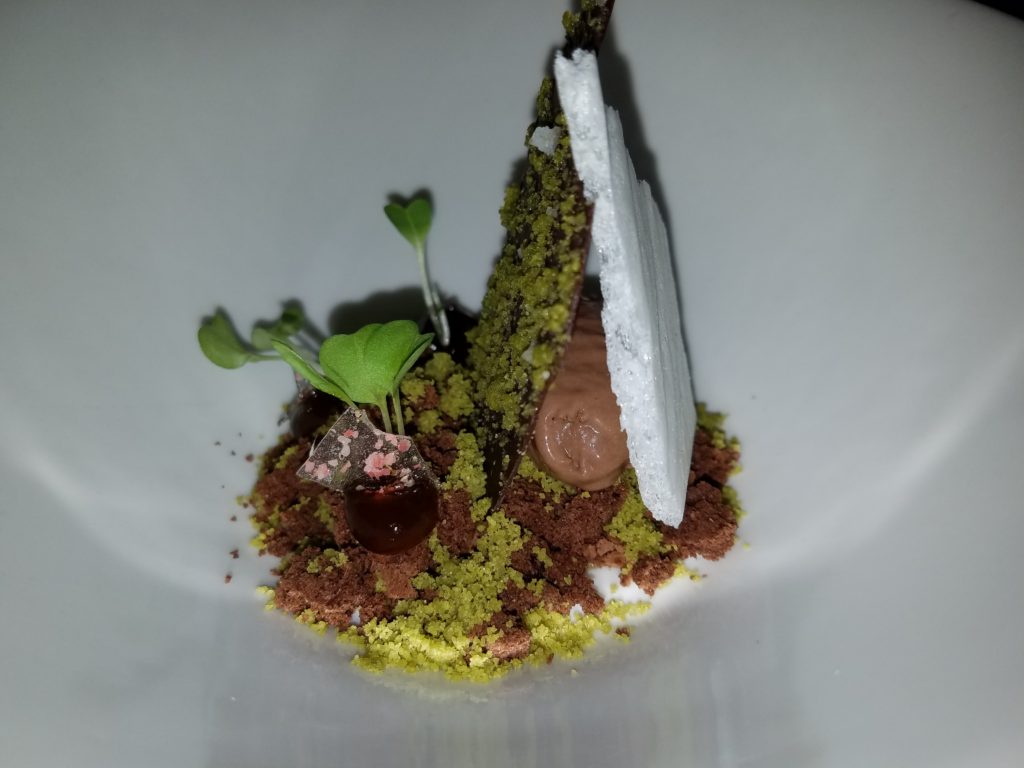 Soft passion fruit candy, lavander ganache, burnt chocolate, dried chilaca chili pepper (a mild to hot pepper), dark chocolate ice cream, and pink pepper crystals.
For our tastes, Lula Bistro was the most creative restaurant we experienced in Guadalajara. If you enjoy molecular gastronomy, then this is a place not to be missed.
Restaurante Lula Bistro