Los Sapos, A Shopper's Paradise in Puebla
Puebla is a shopper's paradise, and at the heart is Barrio de Los Sapos. From antique shops to street markets, fine dining to street food, Los Sapos is the perfect base location to discover treasures from all eras. While everyone has different tastes and prefers different things, we created this overview of Los Sapos and the street markets in Puebla, plus suggestions on where to stay and eat, to make your shopping experience easier.
Disclosure: Some links may be affiliate links where we receive a super-small commission at no additional cost to you if you click through and make a purchase. We call this our Chocolate & Churro Fund.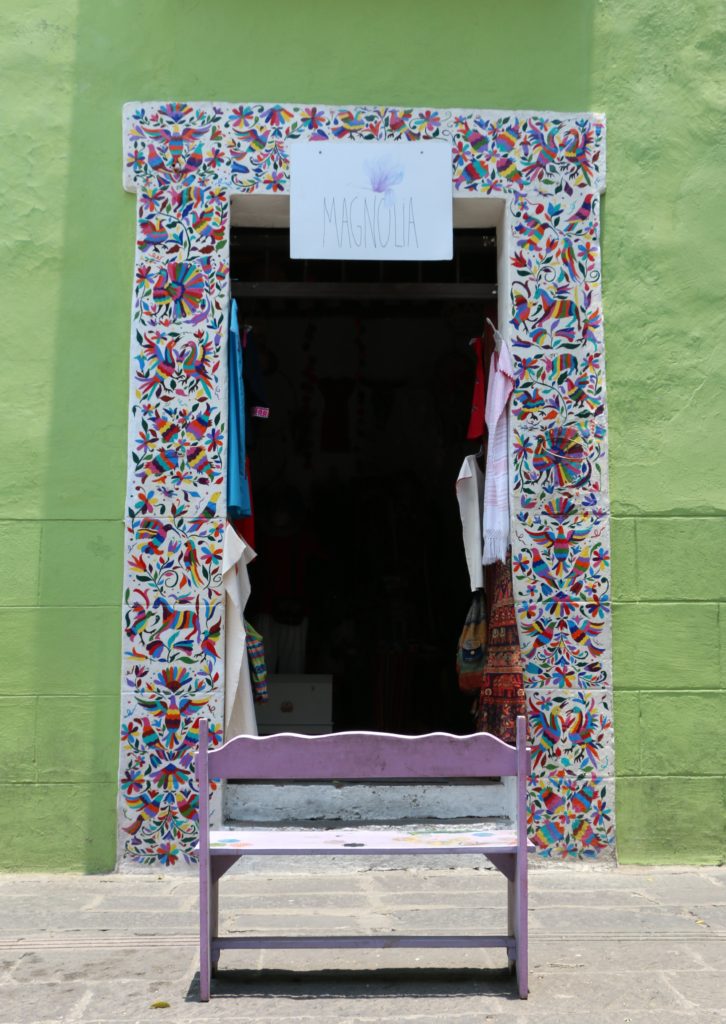 Why is it called Alley of the Toads?
Back in the 19th century, Barrio de Los Sapos was a low-lying neighborhood and when it rained, it flooded. The floods attracted croaking toads, and so the Barrio was named Alley of the Toads. It even has a fountain to commemorate these croaking critters, though it's sometimes hard to see with the weekend tianguis surrounding it.
Shopping in Los Sapos
Los Sapos has many permanent antique and furniture stores along its streets. Some of the merchandise in the stores looks like ransacked estate items, while others show the quality of work in each piece. Bazar Los Sapos is a beautiful wood furniture store with early 20th century items spilling out of the doorway. We bought two nightstands for our guestroom and a few calendar girl trays. Luckily, we live here in Mexico, but they do ship internationally if you ask.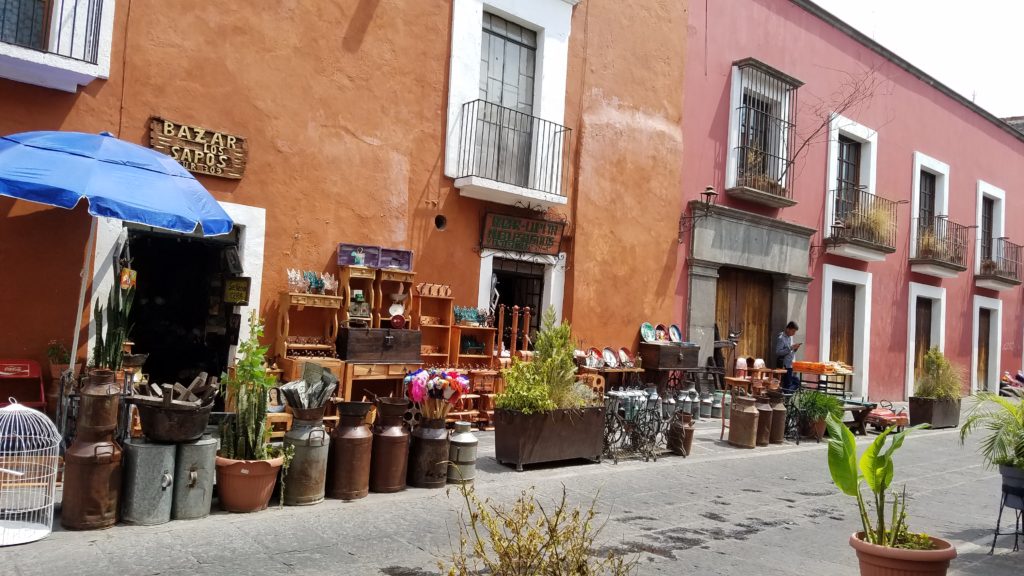 Weekend Tianguis
On weekends, the walking streets in Los Sapos are transformed into a multi-street tianguis. Using Café Santo Patrono on Calle 6 Sur as your midpoint, the tiaguis stretches out in three directions; both sides of Calle 6 Sur and up Calle 3 Ote. Street vendors sell everything from small jewelry to large, hand-carved wooden religious figures. We found some more calendar girl serving trays, Victoria beer coasters, movie memorabilia, old camera lenses and so much more.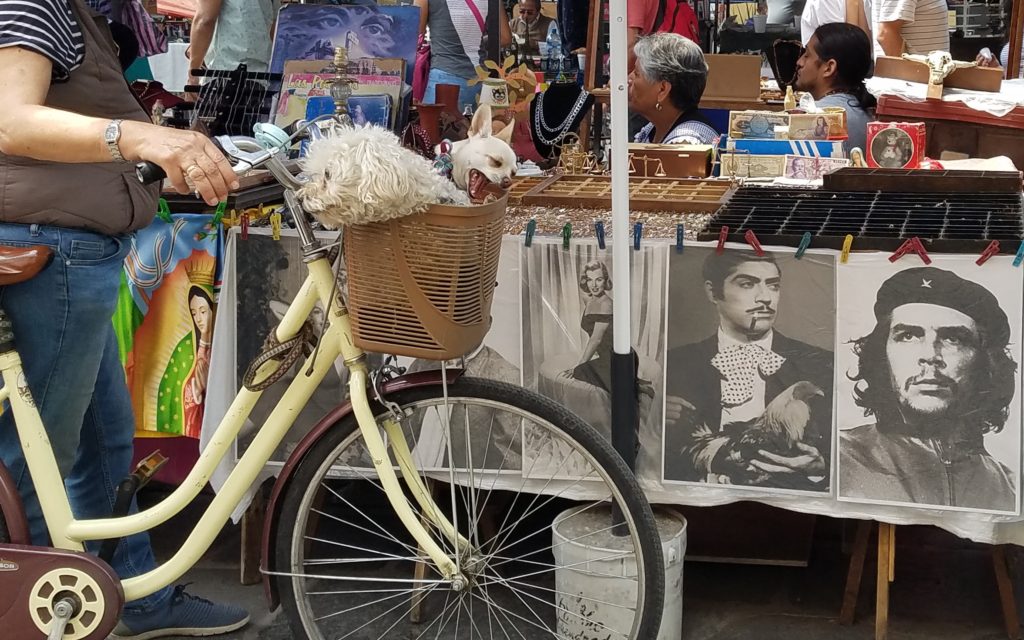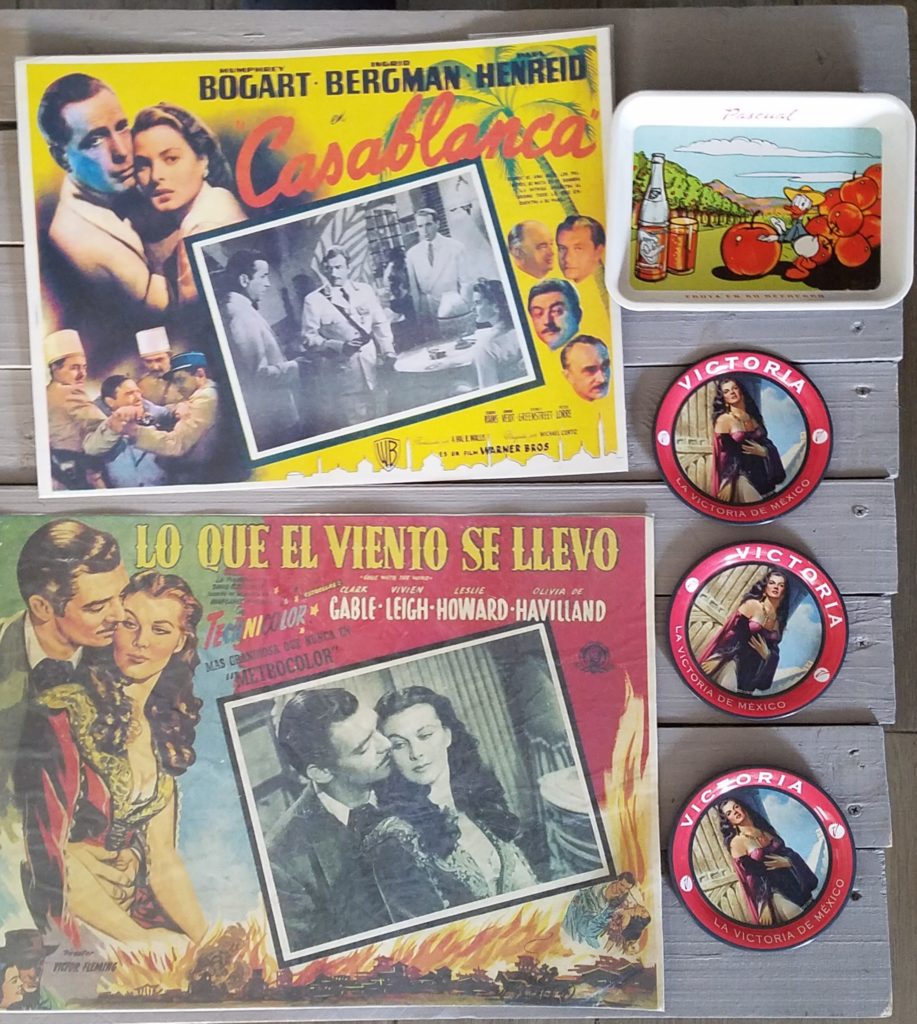 On the weekend across Heros 5 de Mayo Blvd is a smaller, more local tianguis. We found some unique black and green pottery from the Oaxacan region here. Did you know that if a village had a high percentage of potters that their pottery was more decorative? Competition breeds creativity.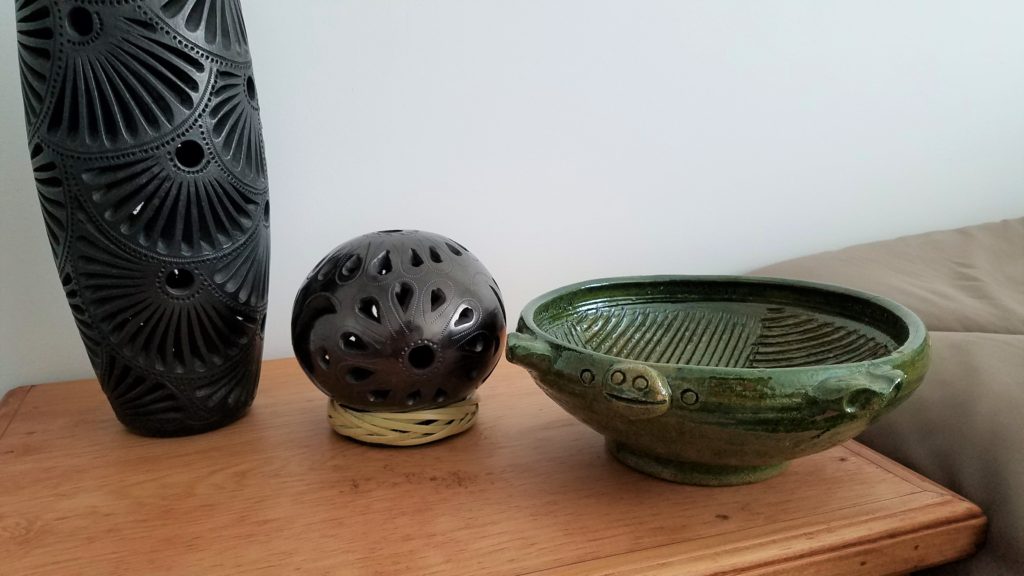 Mercado de Artesanias El Parian
A few blocks from Los Sapos is Mercado de Artesanías El Parián (Artisan Craft Market) with plenty of talavera, crafts, clothing and other souvenirs to satisfy your shopping addiction any day of the week. El Parian is on 3 streets between Av 2 Ote and AV 4 Ote on Calle 6 Nte and Calle 8 Nte and stretches down Av 8 Nte ending at the Barrio del Artista (Artist Quarter). Cafés and galleries surround the square and it's a perfect place to people-watch and refuel with a latte after all that walking and shopping.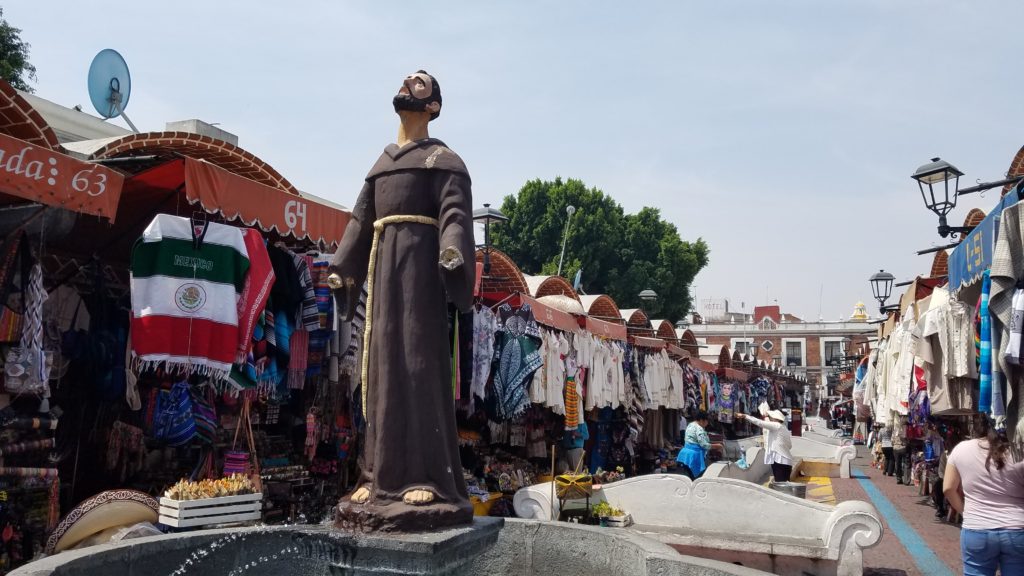 Where to Eat in Los Sapos
Whether it's time for a snack or a meal,  every tastebud is covered in this neighborhood from traditional to international. La Berenjena is a fantastic pizza restaurant. Get there at 2pm when it first opens otherwise you will have to wait the rest of the day. Down Calle 6 Sur La Plazuela del Carolino is a mix of different restaurants including sushi. Off of Calle 5 Ote there's cemita shops, cafes and fine dining at Restauro. And if you just need a shot of something to keep you going, La Pasita is just around the corner, too.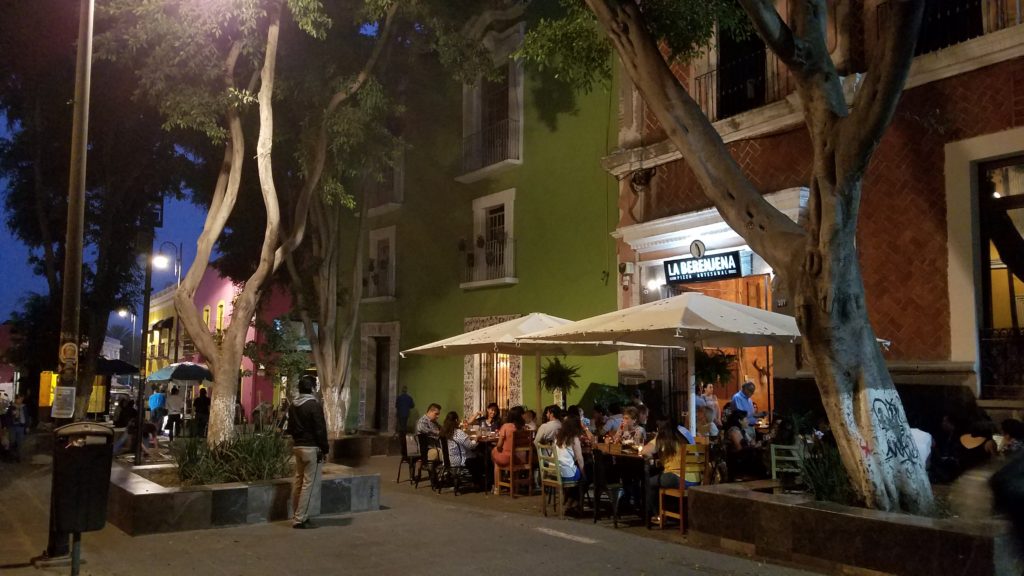 Read about our recommendations for 10 traditional Poblano dishes you have to try in Puebla.
Hotels in Los Sapos
Carrying your splurges can get heavy. To reduce the distance between vendors and your hotel, stay in Los Sapos. There's something for every budget. Meson Sacristia de la Campania, a boutique hotel with a gorgeous courtyard cluttered with unique knick knacks is centrally located in the heart of Los Sapos. Items around the courtyard can be bought, and it has a nice little restaurant to relax in.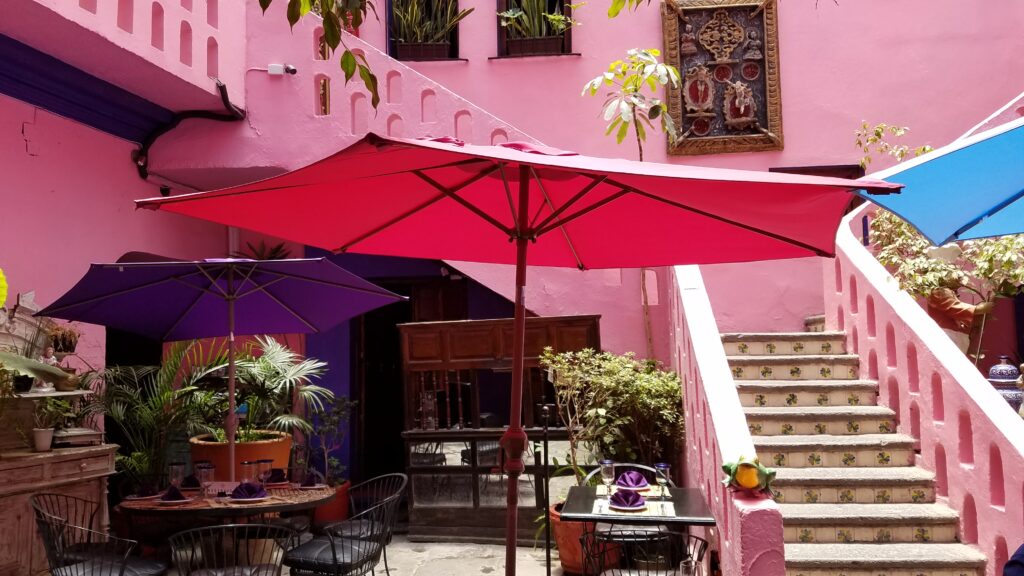 For a more upscale stay, Hotel Cartisiano is at the beginning of Calle 3 Ote away from the main hustle and bustle. It's rooftop bar offers a spectacular view of the colorful street below and the Cathedral above. The views are worth a visit even if you aren't staying at this luxury hotel.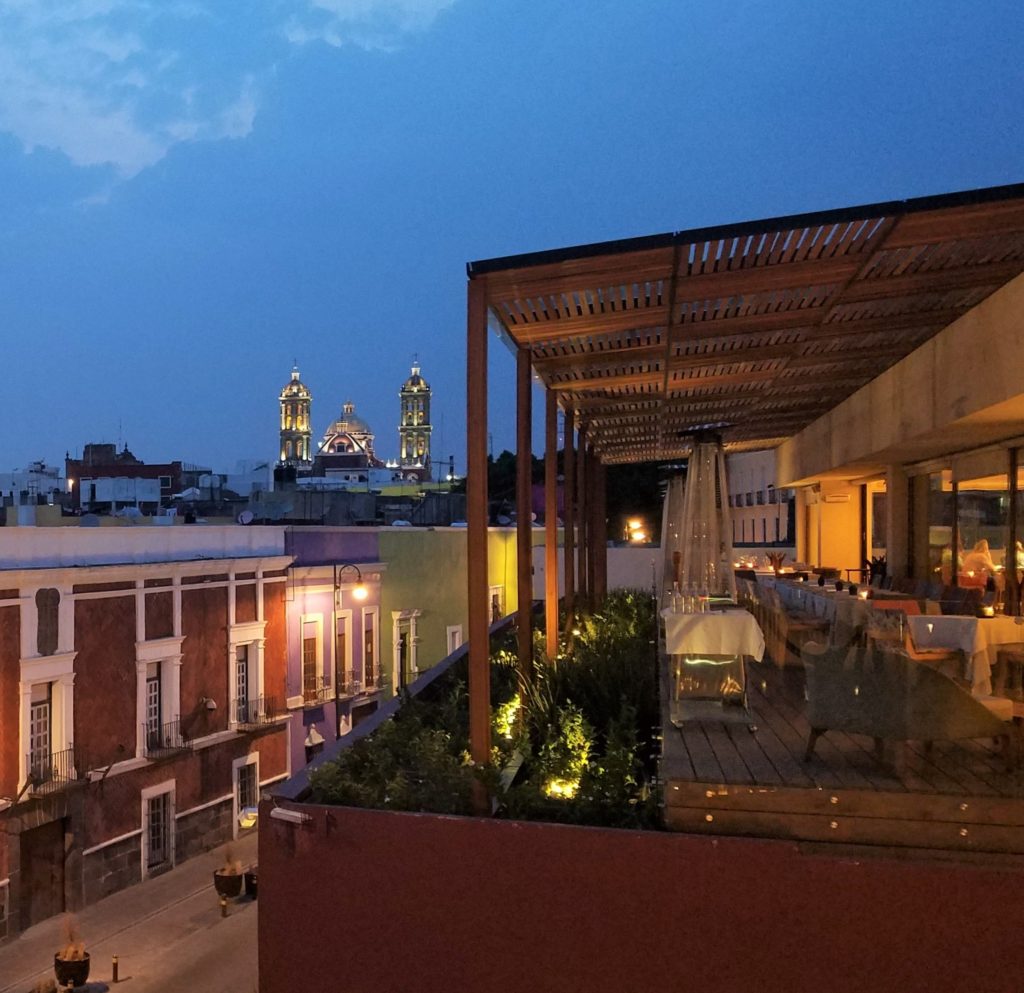 To find your perfect hotel, we recommend looking on Booking.com.
The Perfect Location to Explore Puebla
With so much to see and do, shopping addicts will be in seventh heaven exploring the different merchandise options in Los Sapos. Not only that, it's just a few blocks from the Zocalo, other fine dining restaurants and countless museums. Los Sapos is the perfect location to stay, eat, shop and discover the treasures of Puebla.
Pin This!