Hueso Restaurant in Guadalajara
Our first night in Guadalajara we went to Hueso (which means "Bone" in Spanish) for a unique dining experience. The restaurant is located in the Lafayette neighborhood, a very posh part of the city. Custom designed mini-mansions line the streets. Hueso is a home in the middle of a tree-lined residential street. The entire building is covered in bone colored tile with odd designs on each tile. The tiles were made by the artist who also make their plates.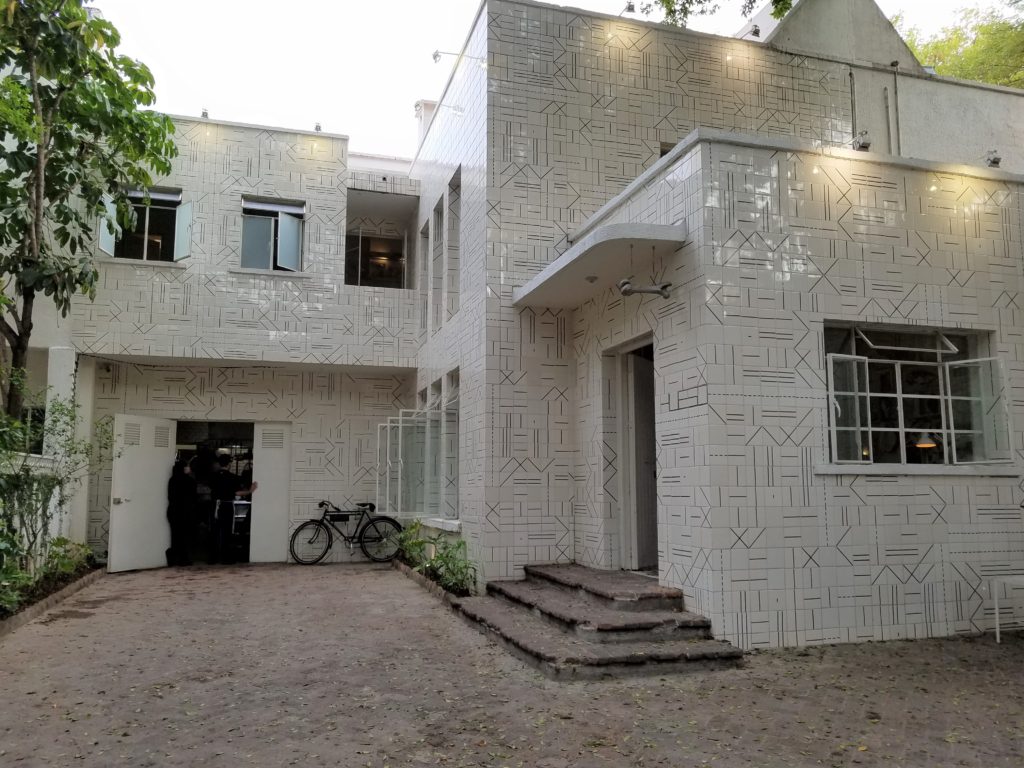 Inside,  the stark white interior is decorated with the bones of animals of every kind. A straight, sixty foot tiered table with 5-6 levels begins close to the entrance and flows down steps out into the back by the bar. Upstairs were the bathrooms and two private dining rooms.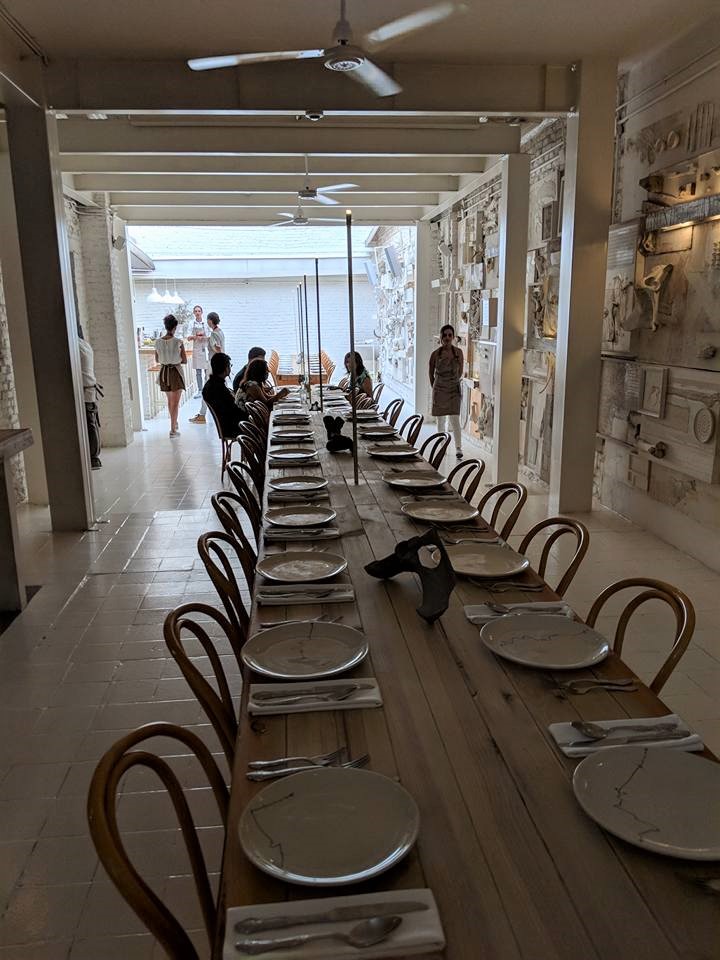 Seating is staggered, and you sit across from your dining partner. Fans and open windows were the only A/C. The servers were friendly and spoke English.
Hueso's kitchen is right next to the table so you have free entertainment. We could see the kitchen plating and adding the finishing touches to each dish.
The meal is served "family-style" which in this case meant the portions were huge even for two people sharing. The menu was limited to 2 salads, 3 appetizers (seafood), 3 white meat, 3 red meat, 2 hard-to-get-meats (like wild boar, nothing endangered), and 3 desserts. Our waiter gave us some tips and suggestions, but it was still more food than we could eat.
Our Courses at Hueso
For the appetizer, we chose the mussels steamed in beef broth with lots of roasted garlic. The mussels were exquisite.  One of the servers rushed over to us to suggest we use the bread for dipping in the butter sauce. We didn't want to fill up on bread, but it was really good! The sauce was amazing and perfect for dipping bread or fishing out the croutons.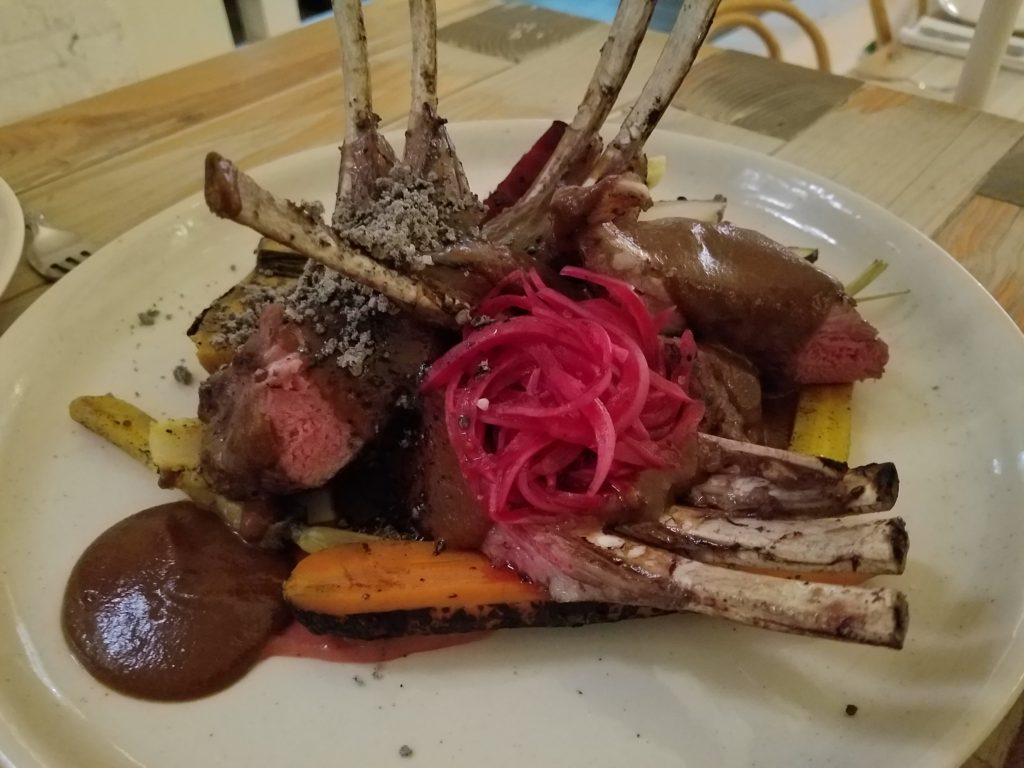 Tom ordered the rack of Lamb which turned out to be a whopping 1.1 pounds cut for service into three rib mini racks. The lamb almost melted in your mouth.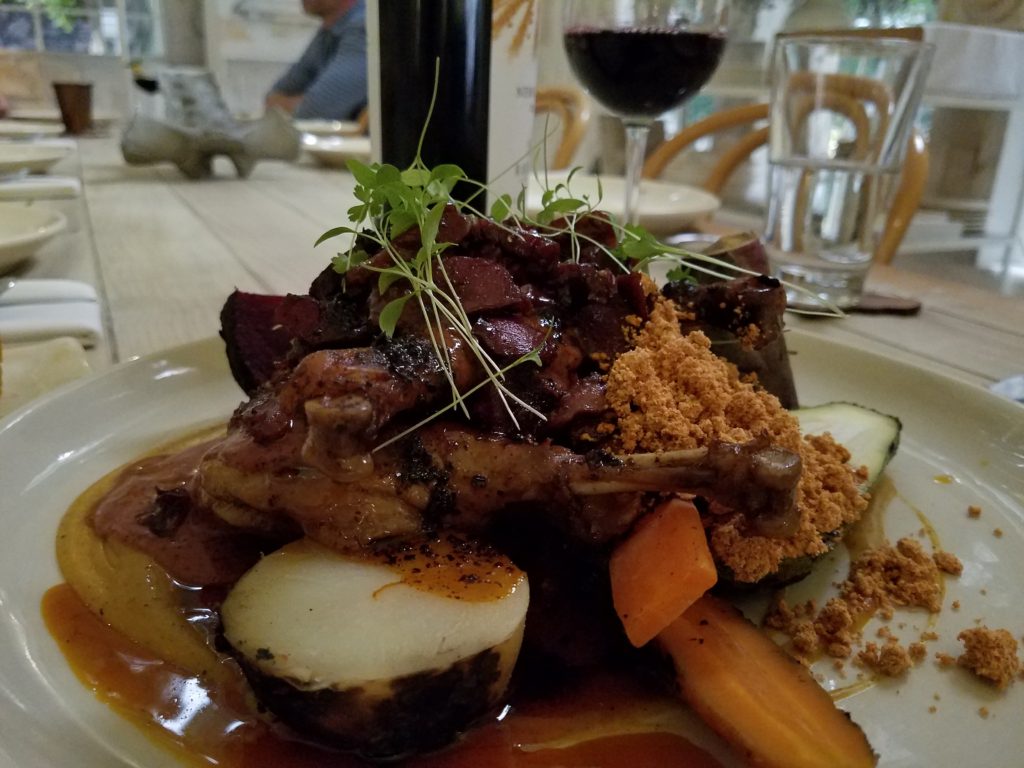 Tiffany got the Duck confit which was many legs and fried gizzards. The duck was perfect! It practically fell off the bone.
We definitely ordered way too much food for ourselves. The sauces were rich but not overbearing. Both entrees came with remarkable charcoal grilled veggies including delicious root vegetables from an organic garden. Hueso is an elevated comfort-food experience. We would definitely eat here again.