How to Pack Like A Boss for a Big Move
When it comes time to pack for a big move, the task can be overwhelming. How did you acquire so much stuff? If you're lucky, your company will pay for most of the relocation costs. If you are doing this on your own, it's time to "clean house", decide what's really important and become a master of the art of packing.
Disclosure: Some of the links below are affiliate links which means we will receive a small commission when you make a purchase at no additional cost to you.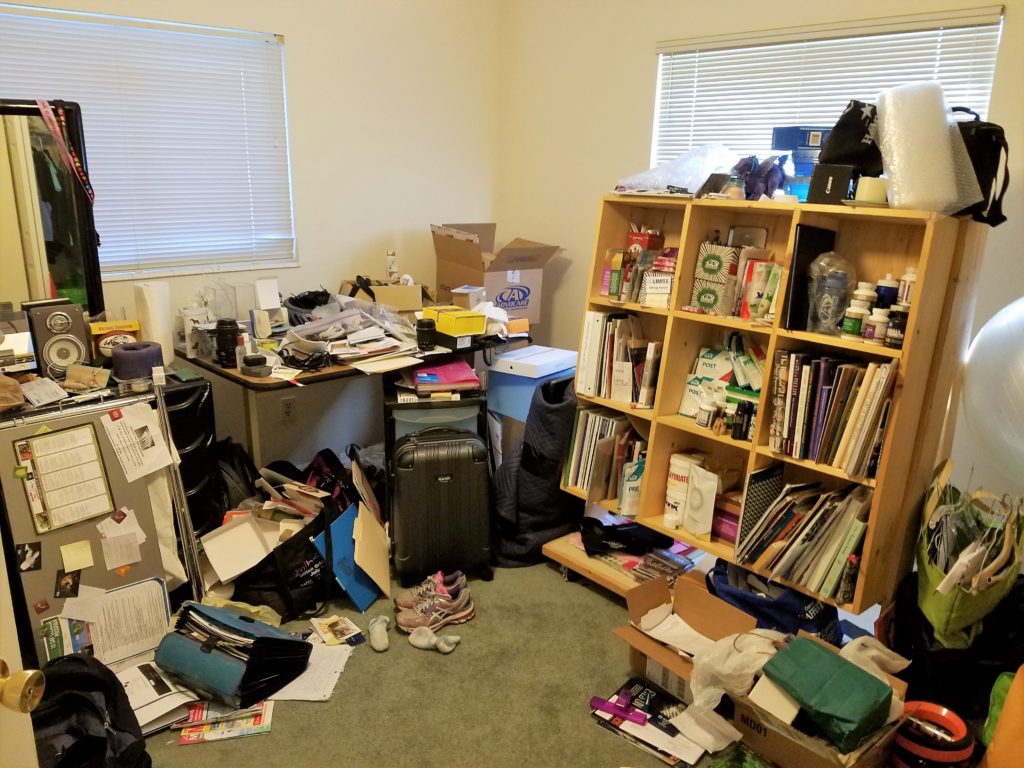 Do Your Research on Shipping Companies
First, research shipping companies. Some will charge by weight, others by cubic feet.
If shipping overseas, find out from the country's Consulate what you can and cannot ship into the country and any other legal requirements.
Once you have guidelines of what you can and cannot ship, it's time to walk around your house and decide what you can get rid of and what you can't live without.
We found out that it would cost $14,000 to ship down our bed, sofa, reclining loveseat and all our boxes. That really wasn't in our budget. We decided the big things we could replace once we moved to Mexico.
This is a great time to try on every item of clothing you own to see if it fits. If it doesn't, it goes into the "no-go" pile.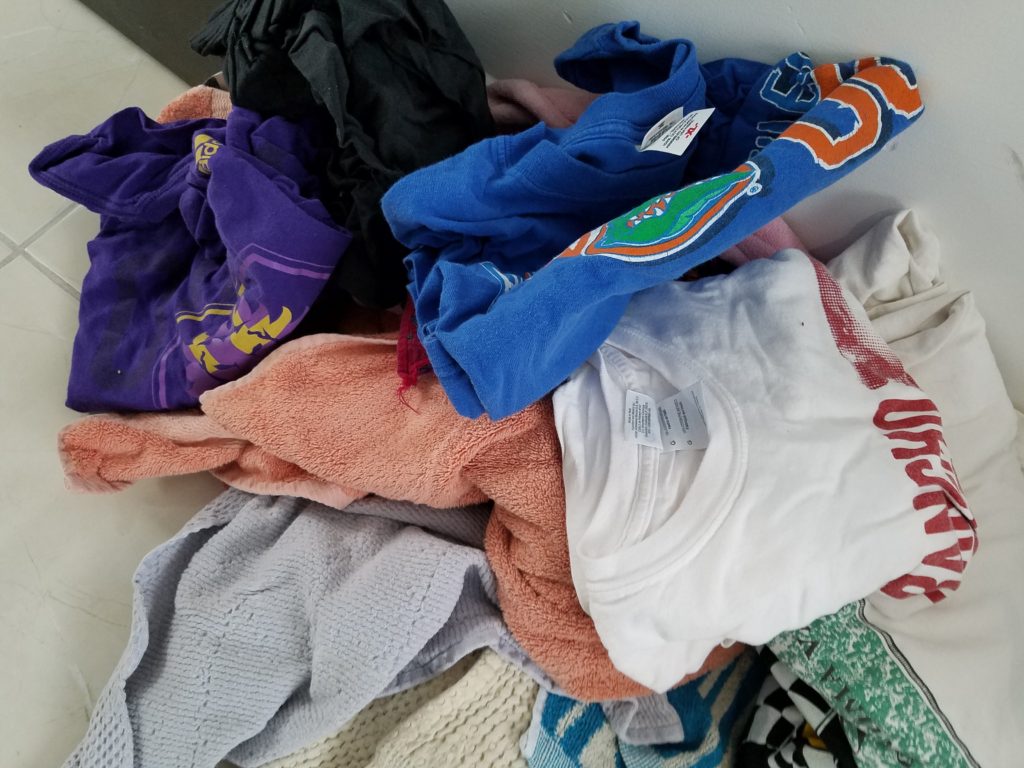 What Do You Need When You First Move?
You need to decide what you will need in your new place right away. You may not have access to a washer and dryer. The kitchen may not have suitable cookware that you can use, if any. These are the two main points I want you to keep in mind. No matter where you go, you can find things to get by, but a few familiar possessions will make the transition easier.
Here is what we packed in our suitcases when we moved from Florida to Mexico:
All of our underwear (very important)
At least 10 days of a change of clothes (consult a weather website to decide what to pack)
3 pairs of shoes (sneakers, sandals, dress shoes)
1 set of bed linens (highly recommended)
Cutting board
Kitchen knives
Set of silverware for each of us
1 small frying pan
Additional items we carried:
Jewelry
Anything of high value
Router and all of our electronics
Now that we knew what was going in our luggage (even if we still needed to wear it), we knew what we had available for packing material.
Packing Material
A lot of the packing material you already own. You have your clothes, towels and bed linens. Even stuff in the "no-go" pile can be used for packing material.  The majority of your stuff is probably pretty sturdy and just needs a bit of cushion. Breakables such as dishware, vases and collectibles will benefit from extra padding material. Don't forget you can collect old newspapers from your neighbors, another packing freebie.
Here is a list of packing supplies you will need to buy. You can get these at any storage location or have it shipped to you through Amazon. (With Give the Gift of Amazon Prime
, you can get free shipping on shipping items!)
Shipping Supplies
Bubble wrap
Cushion foam sheets for plates
Shrink Wrap
Sealing Tape (lots of it)
Sealing Tape Dispenser (makes the job easier)
Medium Boxes (easier to carry)
I have moved on average every 4 years of my life until I met Tom, so I've become an expert packer.
Packing the Kitchen
The hardest room to pack is the kitchen. I should know, I packed the entire kitchen by myself! I ended up with 42 boxes! The problem with the kitchen stuff is that nothing is "uniform". You might have a set of pots and pans that fit one on top of the other, but then you have wasted space where the handles are. Books are easy, casserole pans are not. Picture frames are easy, a food processor is not. This is where Tetris video gaming skills come in handy.
Let's first start with separating what you need right now (before you move), and what you can live without for a few weeks or months.
We set out items that we needed every day, but that we would not be taking with us:
Some items to consider:
A set of silverware for each person
Bowls and plates that you will not be taking with you.
Small pan and large pan
One pot
Cutting board
Tetris begins. Now you have to find some way to "fit" all this stuff into a square.
1) Take everything out of the cabinets. If you try to go cabinet by cabinet, you will have wasted space in each box. I recommend taking everything out and laying it all out in a bare room. This way you can see the sizes and shapes of everything you own.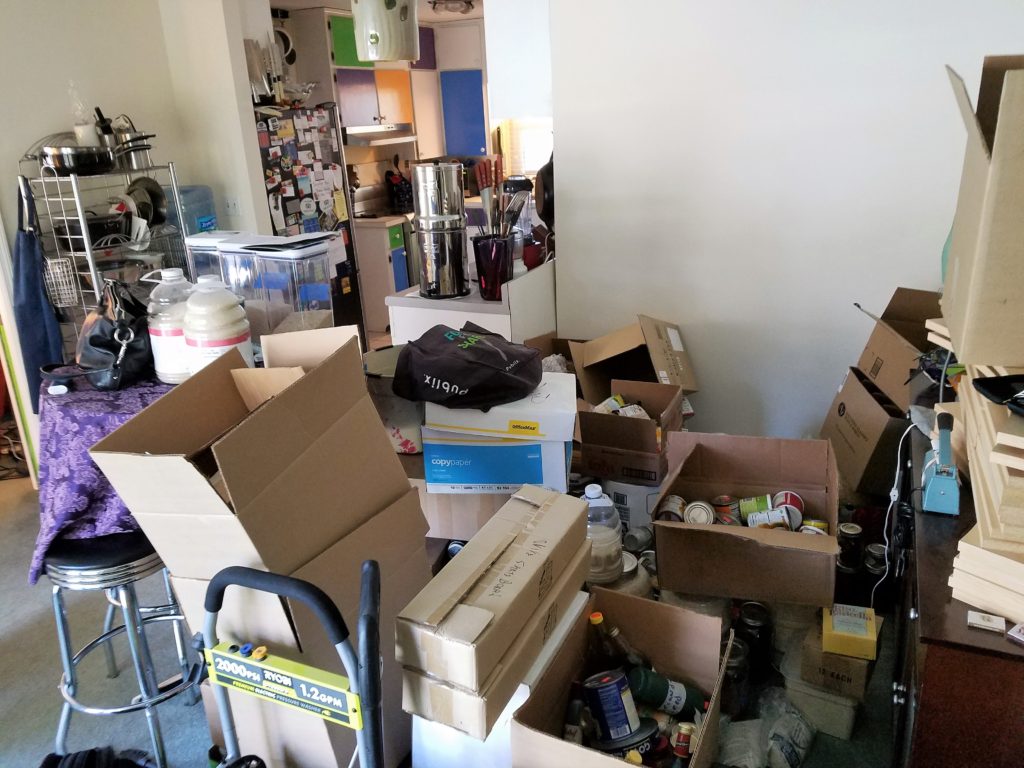 2) Do you have any of boxes the items came in? Pack these items back in their own boxes. These items will be easier to fit in moving boxes because of their square or rectangular shape. It also helps to have the item's custom packing material.
*Note: Try to make these boxes look weathered and not "new". We were charged an extra re-packing fee because some of our packaging was so well preserved. Don't give them a chance to charge you for stupid things.
3) Remember the Russian Doll? Look at your smaller items like ramekins or small serving bowls. Can they fit in the containers you used for sugar and flour? Use your washcloths for packing material.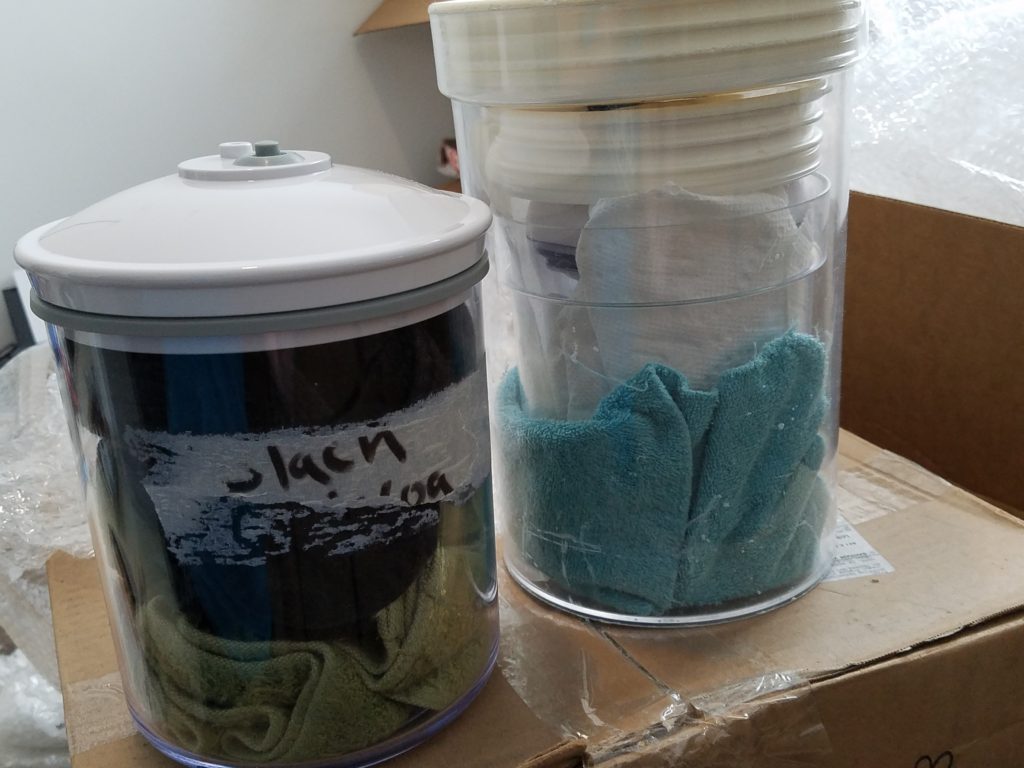 Your goal for each box is that when it is packed, it can be turned on its side or upside down without breaking anything inside.
1) Start with padding the bottom with towels or sweaters.
2) Put as many square things together as you can and layer the padding on the sides and in between.
3) Cutting boards and cookie sheets. These are easy because they are mostly rectangular and can be stacked. You shouldn't need much packing material, but if you do, a few layers of newspaper in between and some extra in the corners will be all you need.
5) Baking pans for bread or pies. Smaller utensils or mixer attachments can be stacked inside these.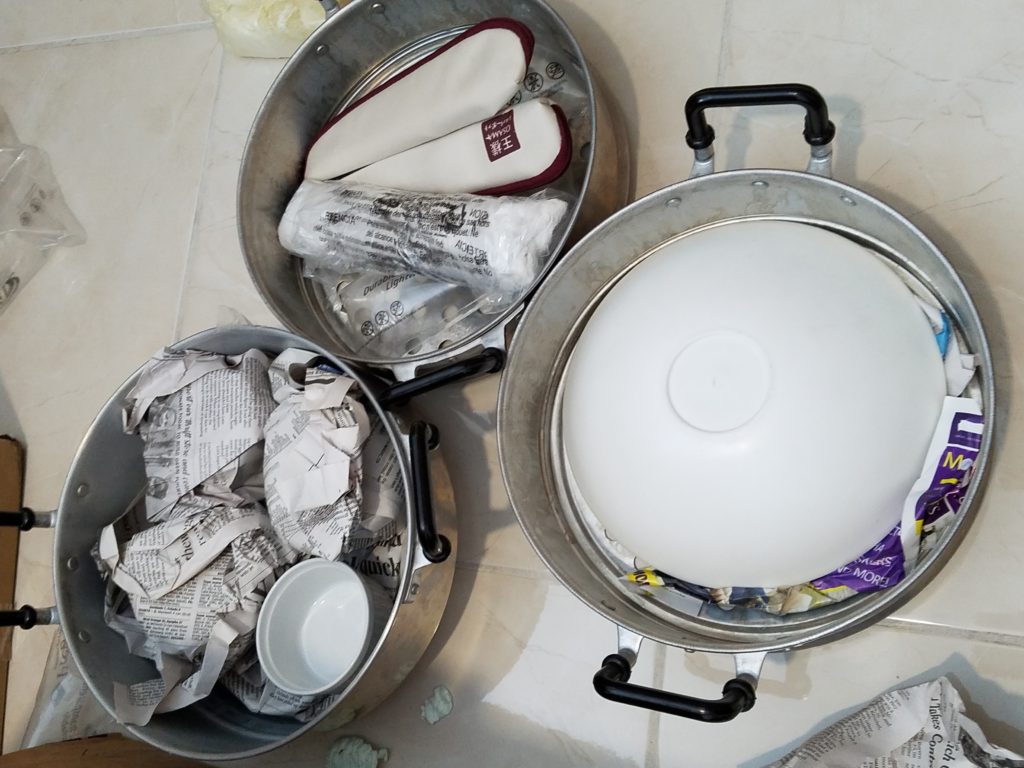 6) The Big Stuff. Mixers, Blenders and Food Processors. Hopefully you still have the original wrapping, but if not, use towels for padding.
7) You may find that putting pans and pots in a box with their handles up is easier and you'll have more room for the small stuff. Pad with clothing or bubble wrap sheets in between.
8) Lobster pot and crock pot. Layer the centers with towels (so the insides don't get scratched) and place lightweight items in the middle. There may not be room in the box for anything else. Make sure to pad with extra towels or bubble wrap along the sides.
9) Look at all your utensils such as spatulas, spaghetti grabber, tongs and ladels. Try to match them up by height. Rubber band them together and wrap in newspaper. These will be stuffed down into the boxes by the handles of the pots and pans or in between round containers.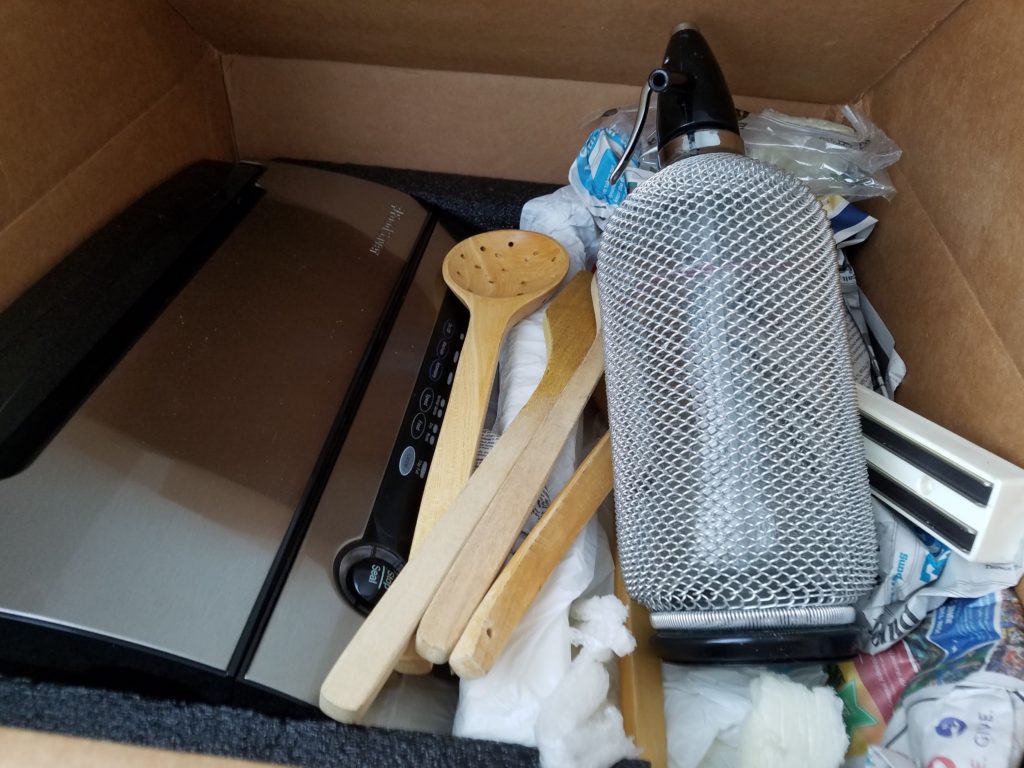 10) Plates are easy, but still need padding in between each. Bowls and teacups are more difficult. Besides the padding in-between, also wrap in bubble wrap and clothing. For heavier plates, add an extra layer of packing material between every two or three plates. This will minimize the pressure on the plates.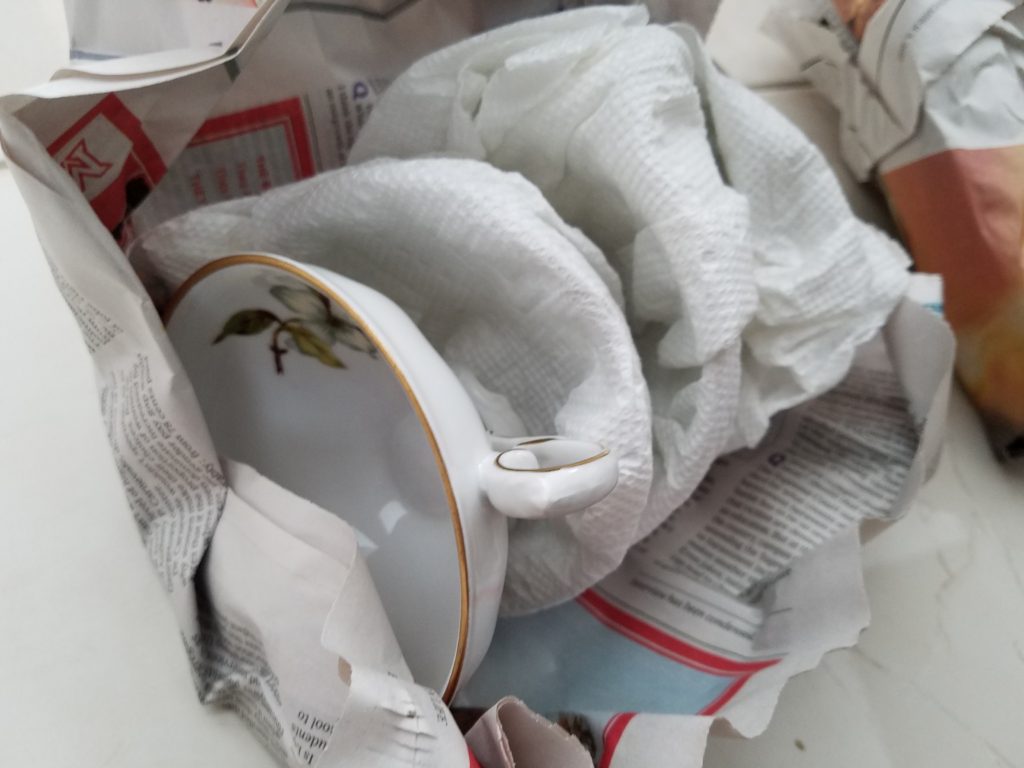 Now that the kitchen is done, the rest of the house will be a piece of cake!
Helpful Tips:
For vases or other breakables, wrap in clothing, bubble wrap and newspaper.
Once you don't need your clothes or linens for packing material, use vacuum bags to save space. Shoes can all go in a box without padding.
Whatever loose pictures you have, try to get them scanned to a CD or a back up drive. The less weight the better.
Obviously, the easiest way to move is to only take what you can carry, but sometimes that's not possible.
I wish you luck in your big move! Packing sucks, but remember, this is the start of a new adventure!
Relocation Consultation
Do you have questions on prices, neighborhoods, and expectations about starting your new life in Mexico? Ask us directly! We can set up an hour long video conference call on Whatsapp and help answer questions that pertain to you and your lifestyle. Our consultations are $70 USD for an hour. If we go over the allotted time, no worries. We won't charge you extra. We want you to get the answers you need to make the best decision for a new life. Plus, we will send a follow-up email with other resourceful links specifically for you.