Officially known as Donostia, San Sebastian is the capital of the Basque province Gipuzkoa in Northern Spain and is the quintessential European city. Located just 30 minutes from the French border, San Sebastian has been a coastal retreat for Renaissance royalty, modern-day celebrities, and gastronomical innovation. It's one of the top foodie destinations in the world ranging from humble pintxos to some of the World's Best Restaurants.
History of San Sebastian
Historical records date the city of San Sebastian back to 1014, but the Basques' fishing and whaling expertise throughout the Atlantic and their own unique language are detailed in early Roman and Viking records. Researchers are still puzzled today about the origins of the Basque language as there is no correlation with any other language.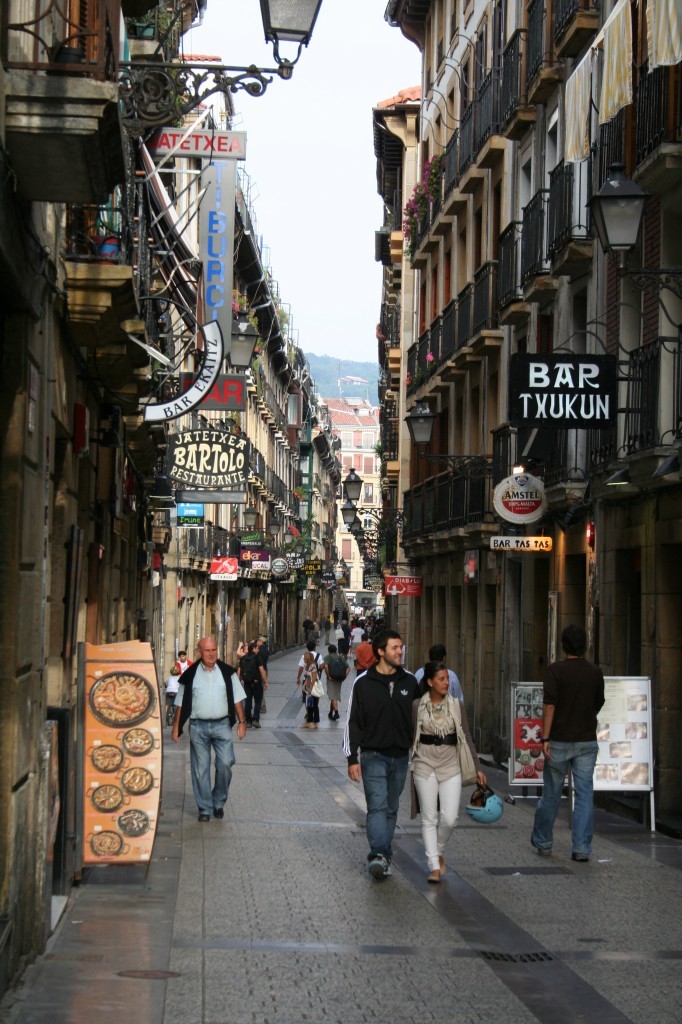 Many cultures and countries have tried to conquer the Basque region over the past centuries. During the Peninsula Wars in 1813, the British laid siege on San Sebastian and drove the French out. Most of the city was burned to the ground, but one street remained intact and was renamed Calle 31 de Agosto to remember that fateful day.  San Sebastian was rebuilt in the Hausmannian style of grand boulevards, spacious parks, and diagonal street designs similar to Paris.
In the mid-1800s, Maria-Christina, widow of Alfonso XII, and her daughter Isabell II spent every summer in San Sebastian which put it on the radar of other royals. With mild temperatures and its scallop-shaped beach protected from rough waves and currents by Isla Santa Clara, it was the perfect holiday getaway in the past and even today.
San Sebastian Today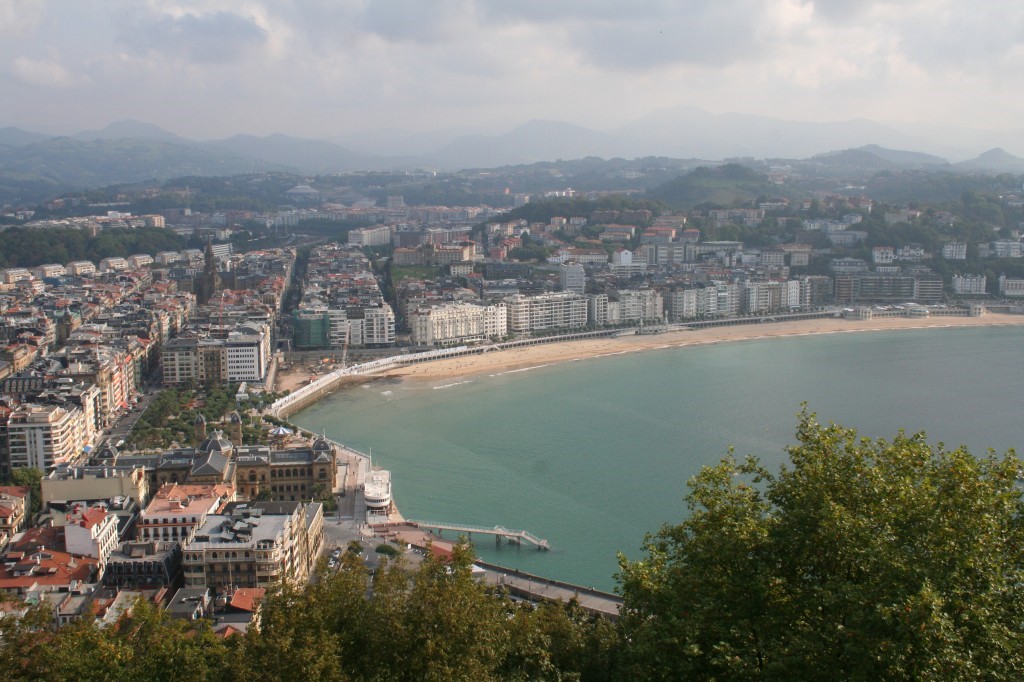 The city has grown, but the main focus is still the beautiful concave beach known as La Playa de la Concha.  A whitewashed promenade stretches from one side of the beach to the other. We spent our mornings walking this beautiful beach from one end to the other before the crowds came.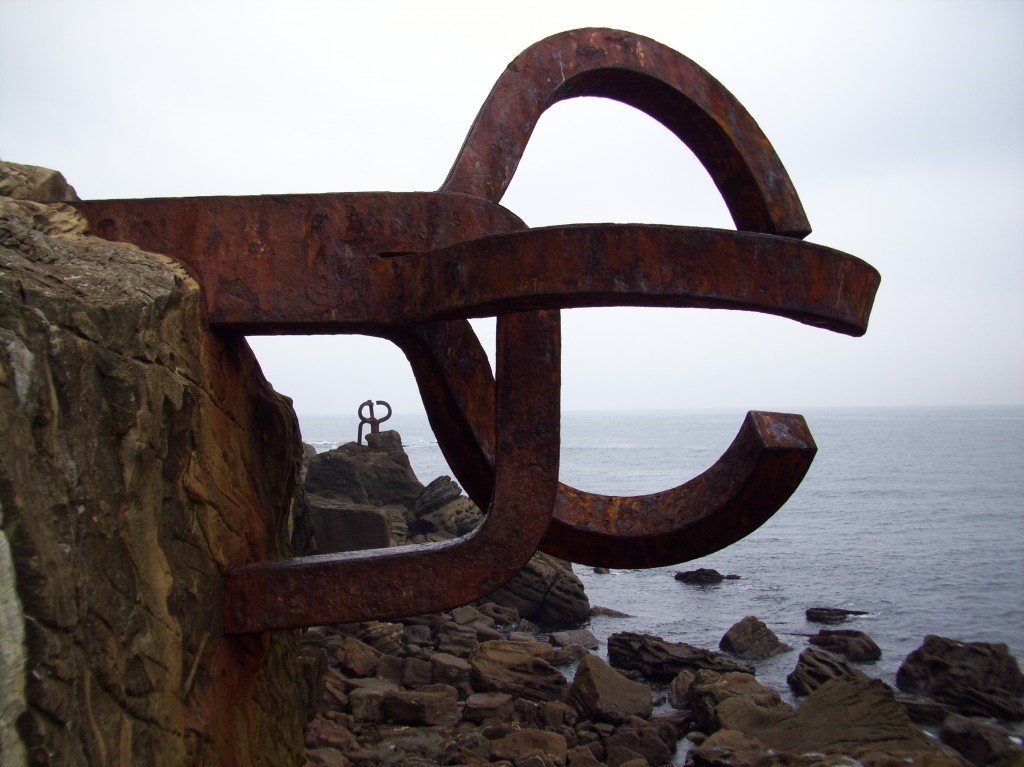 On the west side of Playa de la Concha welded to the rocks is the somber iron sculpture by Eduardo Chillida, El Peine de Viento (wind combs).  On the east side is Monte Urgull with a statue of Jesus Christ watching over the city and La Concha Bay. The best views of San Sebastian are found on top of Monte Urgull. Old cannons still stand guard over the entrance to the small bay.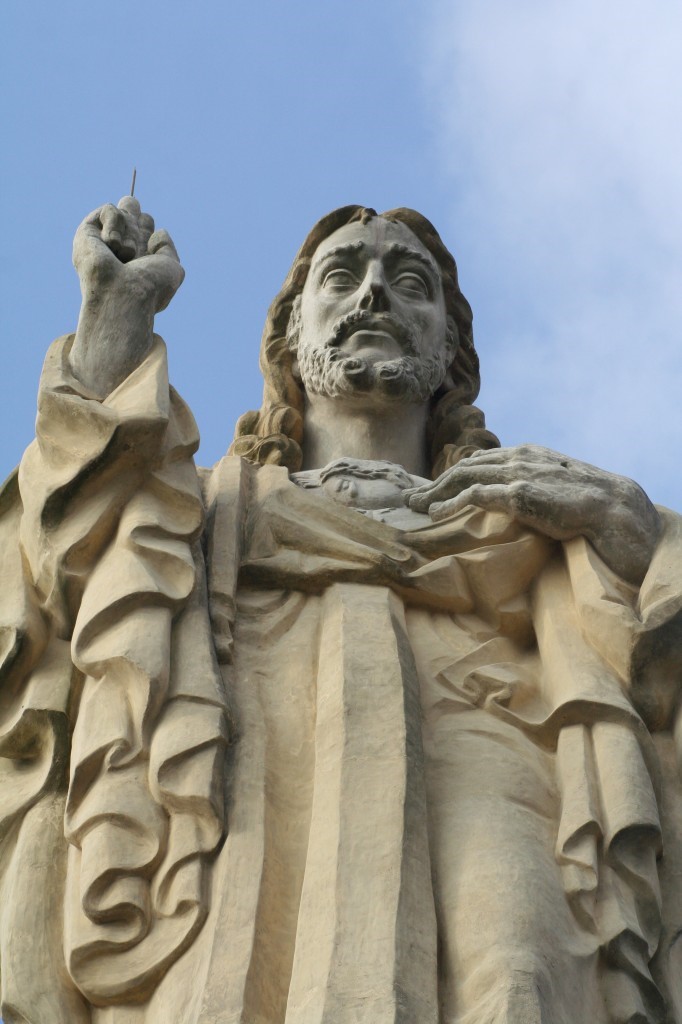 At the foot of Monte Urgull lies a picturesque marina with colorful boats and a modern-day aquarium/museum detailing the whaling history of the Basques.  Parte Vieja, or the old part of town, begins here with colonial streets, ancient churches, and tapas or pintxo bars.  San Sebastian has more pintxo bars per square kilometer than any other city in the world, and some of the best are in Parte Vieja.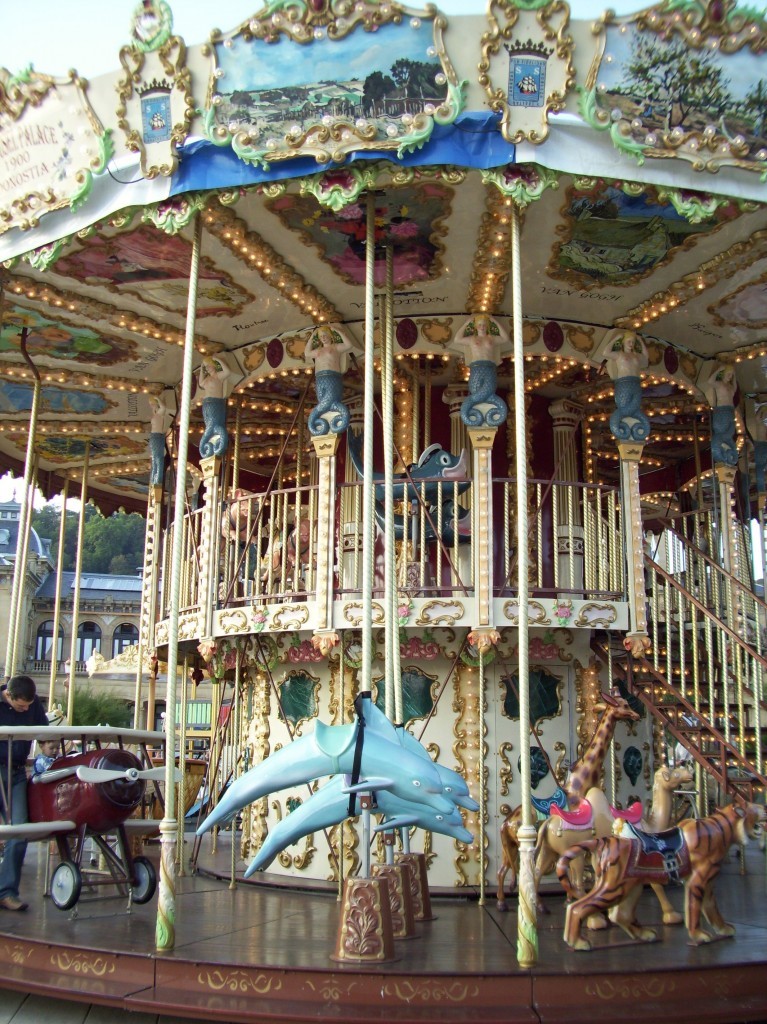 City Hall unites the Parte Vieja with the new.  A beautiful ornate carousel revolves in front of City Hall where a lovely park has been designed for people to enjoy the ocean breeze and sunshine.  To the east of City Hall is the upscale shopping district leading to the Neo-Gothic Catedral del Buen Pastor, the largest church in San Sebastian built in 1897.
Where to Eat in San Sebastian
I could do an entire series on where to eat in San Sebastian. With more Michelin stars per capita than any other city in the world, this is a premiere foodie destination. San Sebastian has been at the forefront of the molecular gastronomy movement for decades and it extends beyond the fine dining establishments to the smallest pintxo bar.
World Best Restaurants in and around San Sebastian
Asador Etxebarri- Atxondo  #6
Victor Arguinzoniz, the self-taught head chef of Asador Etxebarri, restored an old 18th-century restaurant in 1989 with his wife, Patricia.  Victor learned the art of grilling at an early age and experimented with different wood charcoals on meats and seafood imparting different aromas and flavors.  He uses seasonal ingredients, fresh seafood, and free-roaming livestock to create simple, elegant dishes with robust flavor. There's no grand driveway up to a mansion with bellboys and servers in tuxedos. Just a simple two-story stone building surrounded by green mountains and farmhouses serving grilled cuisine that is heavenly.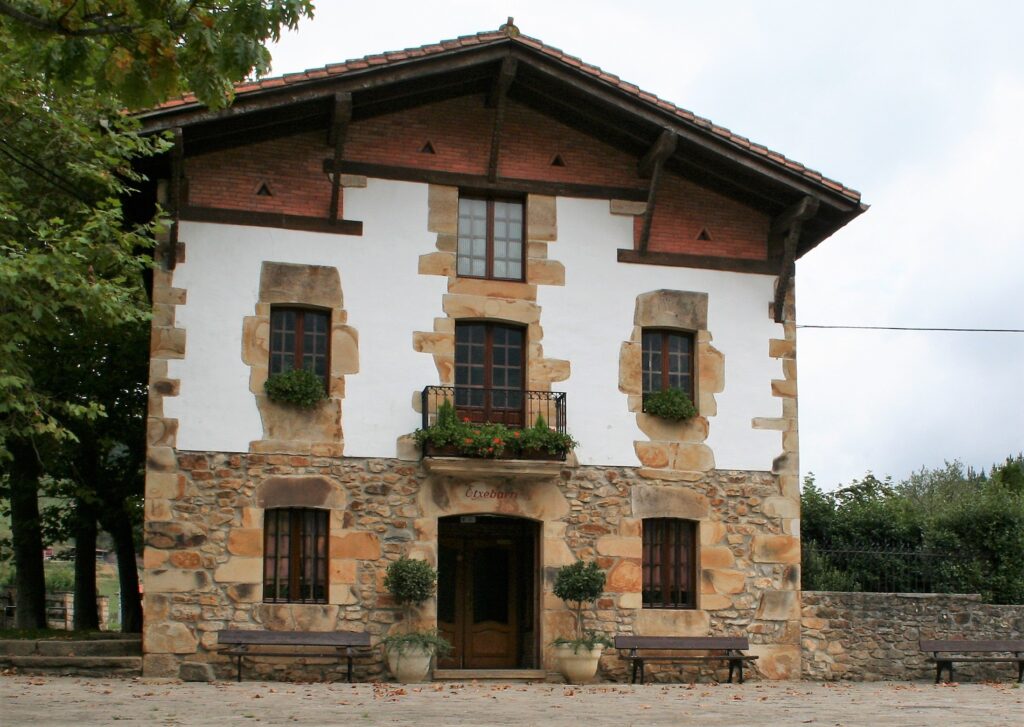 Elkano- Getaria #16
Their specialty is grilled seafood. It's on our list. Getaria is just a 30-minute drive away.
Mugaritz- San Sebastian #21
Chef Andoni Luis Aduriz's creative mind bends reality as we know it. His dishes feature molecular gastronomy at its finest. Changing the form of what we know and letting our taste buds explore, his tasting menus are worth the discovery.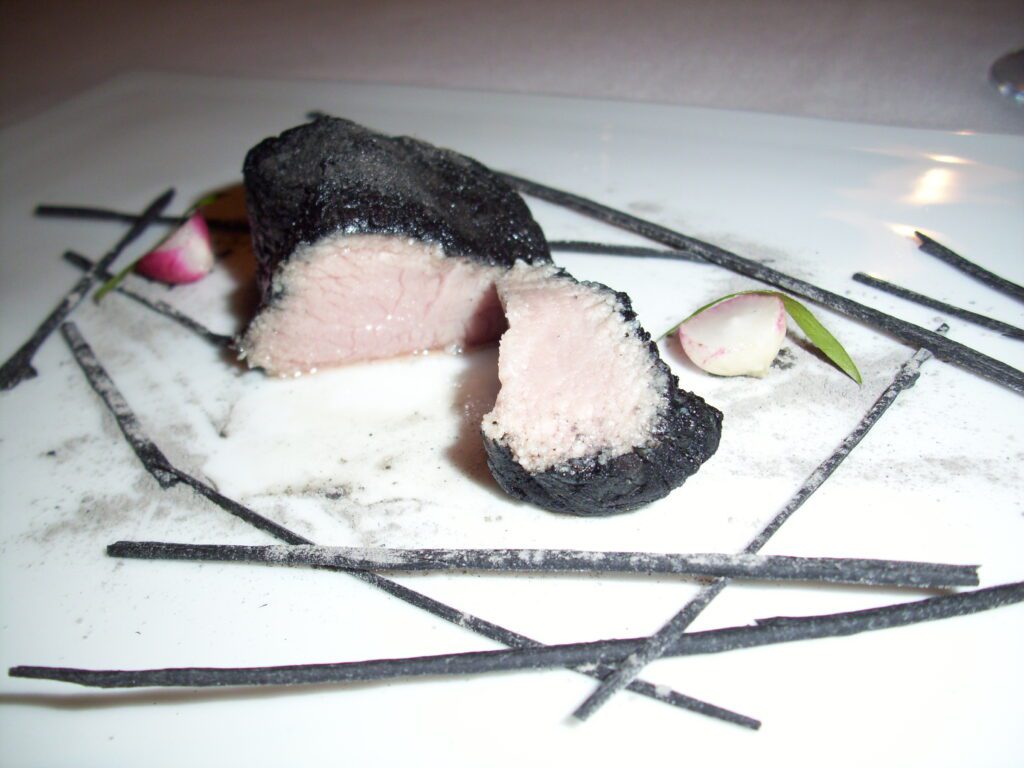 Azurmendi- Larrabetzu #55
Chef Eneko Atxa has won the Sustainability Award twice, and it's easy to see why. His restaurant has its greenhouses where much of the produce is grown. The dining experience at Azurmendi is a journey through several rooms of the restaurant with select courses. Go hungry. Their 14-course menu is worth every bite.
Michelin Star Restaurants in and Around San Sebastian
There are 92 Michelin-starred restaurants in the Basque Country, 25 with stars or honorable mentions in the city of San Sebastian alone. If you want to see them all, then visit the Michelin Guide. Here are a few we highly recommend:
Akelarre- 3 stars
Receiving its first Michelin star in 1978, Akelarre has been a favorite among locals and foodies for decades. Perched on a clifftop 15 minutes from San Sebastian, this is the ultimate romantic destination restaurant. They also recently opened a hotel so you can enjoy the sunset and sunrise without leaving the property.
Arzak- 3 stars
Arzak is run by the father-daughter duo Juan Mari and Elena Arzak. It's been featured on several travel and food shows, most notably Anthony Bourdain's episode of San Sebastian. Four generations of the Arzaks have cooked in its kitchens, and they have maintained a 3-star Michelin rating since 1989.
Restaurante Martin Berasategui- LaSarte 3 stars
Restaurant Martin Berasategui was on the World's Best List for many years and is still one of our favorites. The attention to detail from his staff and in his dishes is unparalleled. This is a place where you will feel at home and marvel at creativity. If you ask us about our top 10 restaurant experiences, Martin Berasategui is easily in the top spot. Read about our Most Memorable Dining Experience- Martin Berasategui.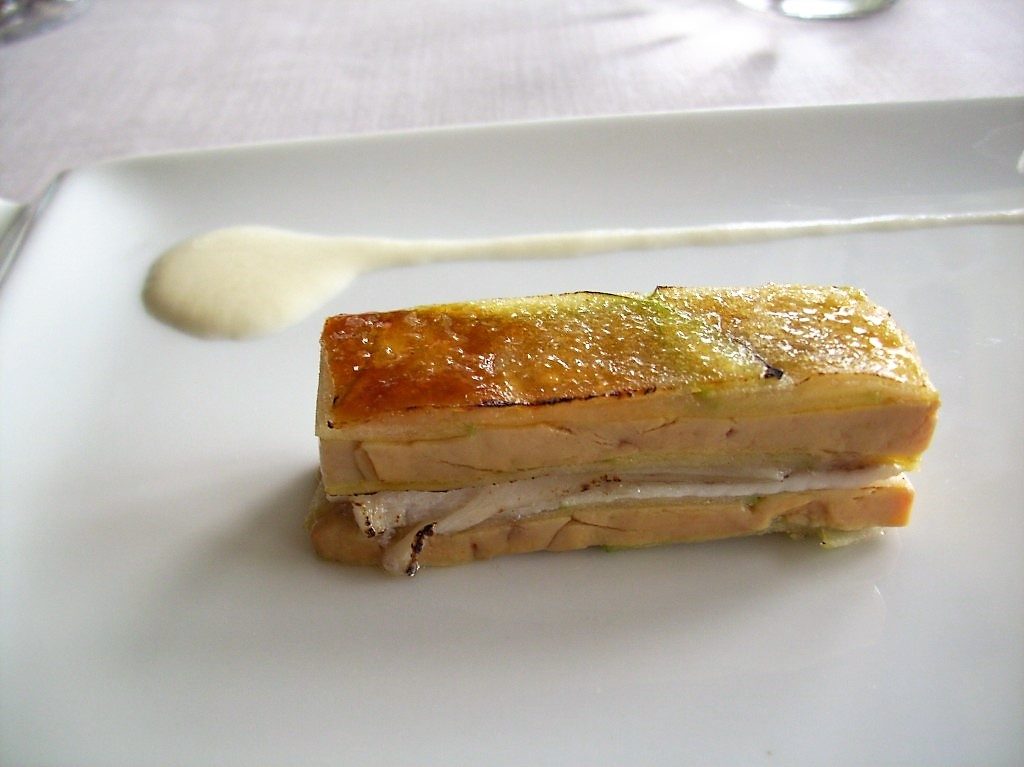 Here are some other fantastic Michelin-star restaurants to try:
Amelia by Paulo Airaudo- 2 stars
eMe Be Garrote- 1 star
Kokotxa- 1 star
Mirador de Ulia- 1 star
Special Mention: Rekondo
This iconic restaurant has been around for decades serving traditional Basque cuisine. It also has one of the best wine lists in the city.
San Sebastian Pintxo Bars
On Calle 31 de Agosto in San Sebastian, it seems every other doorway leads to a pintxo bar. Music and laughter fill the street, and the smell of fried seafood permeates the air. In a town of over 200 pintxo bars, the choices are endless.
Not just your usual fried croquette or ham on toast, pintxo (pronounced peen-cho) owners go above and beyond with their creativity to be something special. Foie gras, sea urchin, and sardines are just some of the savory ingredients you'll find at these establishments.  Pintxo bars even have their annual pintxo competition, the Campeonato de Pintxos in October to see who has the best, most creative pintxo in town. Chefs and owners pack a lot of flavor and vision into their small plate wonders using seafood, meats, cheeses, and vegetables, raw, fried, roasted, and toasted.
One night we hit the streets of the Parte Vieja (old part) of San Sebastian for our pintxo bar crawl called a txikitea (pronounced chick-e-tay-oh).  There's no systematic approach to a pintxo crawl. You stand in most bars, order a glass of wine or beer, talk about the day, and choose what you want from the assortment displayed across the counter. Iberico ham and sardines are a favorite of the locals. Txokoli, a low-alcoholic white wine produced in the Basque country is light and refreshing with the right acidity to cut through salty meats and fish. At the end, the bartender counts your toothpicks or just knows how much you consumed (honor system), adds your drink, and you pay and head out to the next one.
San Sebastian Festivals
The people of San Sebastian seem to be celebrating something all the time. Jazzaldia, the San Sebastian Jazz Festival in July, is the longest continually running jazz festival in Europe. In September, the San Sebastian International Film Festival hosts top celebrities. Elizabeth Taylor, Audrey Hepburn, Mel Gibson, and Woody Allen are just a few who have graced the red carpet at the film festival.  Soccer and pelota, or Jai-alai are favorite sports during the summer. San Sebastian Day in January is San Sebastian's own holiday where the entire town dresses in military uniforms or bakers garb banging drums for 24 hours.  These are but a few of the celebrations the Basque enjoy throughout the year.
Where to Stay in San Sebastian
San Sebastian isn't cheap. Prices for nice hotels with king-size beds (I don't why it's so hard to find a king-size bed in Europe) range from $200- $750 a night. We stayed at Hotel Maria Cristina a Luxury Collection Hotel with Marriott. To find your perfect accommodations, try Booking.com.
Day Trips from San Sebastian
Bilbao
The drive from San Sebastian towards Bilbao rivals the Big Sur Highway with its bridges and expansive views of the ocean on one side and green rolling mountain hills on the other. Bilbao is famous for the Guggenheim Museum designed by Frank Gehry, but don't miss the Casco Viejo (Old Town) where you can see the Cathedral de Santiago de Bilbao. Afterward visit the Plaza Nueva in the center of Caso Viejo, home to many bars, cafes, and restaurants, or La Ribera market, the largest indoor covered market in Europe for fresh produce or music events. If you have time, dine at one of the six Michelin-star restaurants in Bilbao. For a unique angle of the city, cruise down the Ria Bilbao on a boat or ride the Teleferico up to the top of Mount Artxanda for a panoramic view of the city and the Bay of Biscay.
TRAVEL TIP: Asador Extebarri is located halfway between San Sebastian and Bilbao. 
Getaria
Along the Northern St. James coastal pilgrimage route, Getaria is a fishing village surrounded by sheep farms and txakoli vineyards. Getaria has been put on the map for its Michelin-star restaurant Elkano and fashion icon Cristobol Balenciaga's museum showcasing his many designs. Spend the day drinking Txokoli and eating monkfish caught that morning.
Hondarribia
Hondarribia is one of the most picturesque villages in Spain. The walled Casco Antiguo (old city) with its Baroque architecture on narrow cobbled streets and colorful fisherman houses in La Marina is a photographer's delight. Have lunch at the one-star Michelin restaurant Alameda and feast on the plethora of pintxo bars at night. Where should you stay? Parador de Hondarribia was once the castle of Charles V and was located right in the heart of Casco Antiguo.
Have you been to San Sebastian? Tell us your favorite restaurants and things to do in the comments below!